Statement on the recent flooding
Categories : Press Release
20 Feb 2020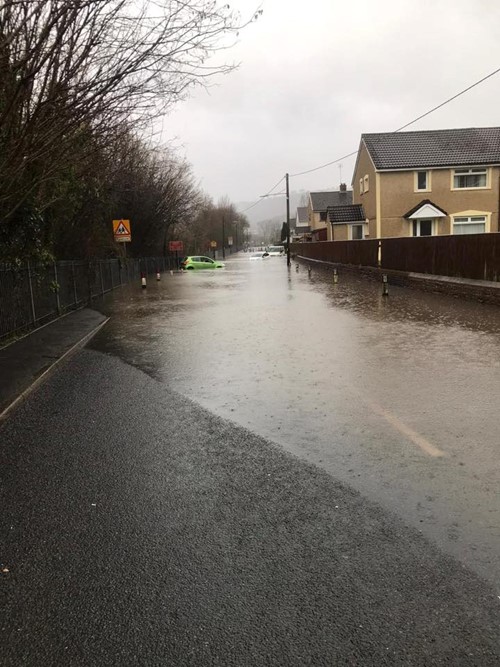 Over the last week and a half Storms Ciara and Dennis have had a significant impact within our community.
A major incident was declared in South Wales following Storm Dennis over the weekend. 6.5 inches of rain fell in 48 hours. This is the second flooding incident in less than a week and already high-water levels combined with saturated ground further contributed to the unprecedented level of flooding seen across South Wales.
In Merthyr Tydfil, the impact of Storm Dennis started to be seen on Saturday evening with landslides appearing in various locations across the county borough.
In the early hours of Sunday morning it became apparent that due to flooding, various properties needed to be evacuated and we worked with the Emergency Services to protect the public and our two Rest Centres were activated.
Our frontline crews continued to deal with the emergency throughout Sunday into Monday, with our flood response being coordinated from our emergency control room.
A major clean-up operation is currently underway. 12 vehicles have been deployed to the worst-affected areas to clear bulky items and flood damaged goods.  These collections will continue, as and when needed.
A 50 strong team of staff have been deployed within the community and have been knocking doors in the areas we know have been flooded in order to gauge what help is needed and to identify vulnerable individuals.  We have also set up dedicated web pages for victims of the flooding to seek advice, guidance and let us know what help they need from us.
We are also working with partner organisations such as Merthyr Valleys Homes and Merthyr Tydfil Housing Association, community groups and volunteers, as part of this recovery operation.
We will continue to do everything we can to support our residents. We are currently working with Welsh Government to look at the distribution of an emergency fund for flood victims, further information on which will be made available as soon as possible.
We would like to thank everyone who has rallied around our flood affected community, offered help and support and given donations; the kindness and generosity demonstrated is testament to the true spirit of Merthyr Tydfil.
A message from the Deputy Leader Cllr Lisa Mytton
"We are so, so grateful; the generosity here in Merthyr Tydfil is absolutely fantastic and just shows what fantastic community spirit we have!"