Stride and Ride gets underway
Categories : Press Release
13 Jun 2019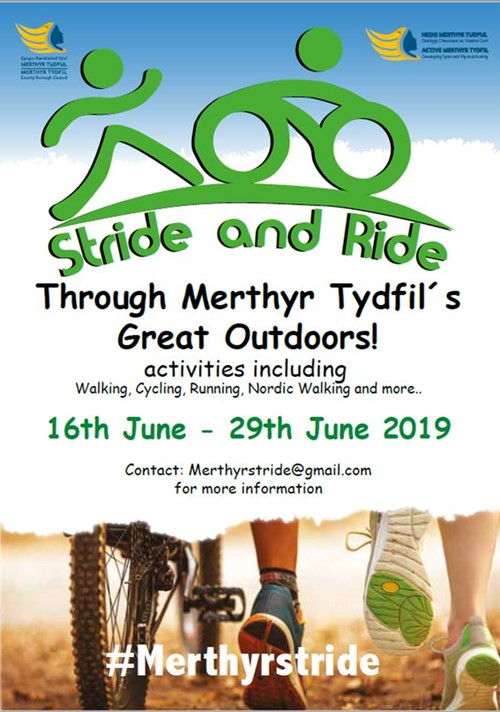 The county borough's fourth Stride and Ride Festival gets underway this Sunday (16 June) with the Merthyr Tydfil Walkathon – a chance for you to explore two of our best trails, while also raising money for charity.
The Walkathon comprises three different routes: a 10am start at Merthyr Tydfil Leisure Centre for 10 and 14-mile options along the Taff and Trevithick Trails.  Or you could go to Aberfan & Merthyr Vale Community Centre at 1.30pm for the four-mile option.
The cost is £10 for adults and £4 for children and attendees have to register at www.etchrock.com/challenge/buy-ticket/merthyr-tydfil-walkathon-2019
The 10-day Stride and Ride Festival, which runs until June 29, is a joint venture between the County Borough Council, Active Merthyr Tydfil and the Merthyr Tydfil Stride and Ride Forum - which was formed following the success of the inaugural event in 2017.
The festival will give people the chance to try their hand at newer pursuits such as buggy run sessions and 'Plogging' - or 'eco-running'.  But they'll also be able to take part in the more conventional sports of walking, swimming and cycling with established groups.
Other activities include Nordic Walking, Merthyr Tydfil Parkrun, guided bike rides, scenic nature reserve and mountain walks, and town centre history trail walks, ending with family 2k and 5k social run.
We'll be keeping you updated over the next few weeks, so look out for our posts and Tweets.