Taf Bargoed catchment area awarded over £½m for restoration project
Categories : Press Release
11 Sep 2019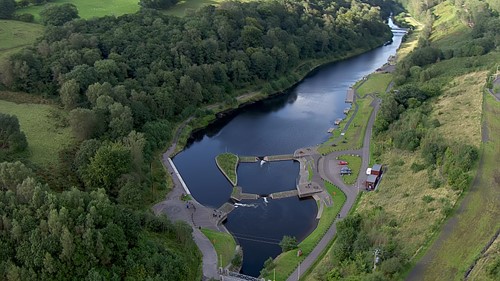 A half-a-million-pound project to protect lakes in one of Merthyr Tydfil's most picturesque green spaces will also see local landowners, commoners, residents and schools take on the role of 'community guardians'.
The 140-hectare Parc Taf Bargoed will see an ongoing clean-up programme following a grant of £417,000 from Welsh Government, matched by £60,000 from the County Borough Council and £30,000 from Natural Resources Wales.
The park, which was created following the regeneration of three disused coal mines, has 3.6 hectares of lakes that attract a wide range of wildlife. But there are issues with minerals from its industrial past causing pollution, silt and sediment build-up and antisocial behaviour such as fly tipping.
The Council today (11 September, 2019) agreed to accept funding from Welsh Government's Rural Communities – Rural Development Programme 2014-2020 Sustainable Management Scheme, which is funded by the European Agricultural Fund for
Rural Development and the Welsh Government, towards the total project costs of £507,287.
The Council also approved the appointment of a three-year post to implement and manage the 'Taf Bargoed Catchment Restoration Project', engaging with the community and carrying out communication activities.
Councillors were told the river catchment area had been an 'important part of the lives of the people it served for generations'. A Community Regeneration Department officers' report said the communities of Trelewis, Treharris and Bedlinog in Merthyr Tydfil had the 'closest affinity' with the river, although it encompassed other wards and the wider county borough of Caerphilly.
Work will include providing new fencing, tree planting, the restoration of river banks and protection against their erosion, and reconnecting habitats to build resilience processes into the area's biodiversity and ecosystems.
"The project will also engage with local community members, businesses and organisations to ascertain their needs and views on the project, as well as providing volunteering opportunities around river restoration activities," the report added.
"It will also encourage walks around the catchment area in order to hopefully reconnect people with river and park and its social history and realise the health and wellbeing benefits of being outdoors.
"Meanwhile, the community guardians - who will be undertaking small scale maintenance works - will act as community mentors for younger people who were engaged with as part of the schools/college element of the project."
The project is a collaborative scheme also involving Natural Resources Wales, South Wales River, Friends of Taff Bargoed Park, Merthyr Tydfil Biodiversity Partnership, Merthyr (South Wales) Ltd, Gelligaer & Merthyr Commoners' Association, Aberfan Canoe Club, Rock UK Summit Centre, Taf Bargoed Angling Association, Taf Bargoed Development Trust, Cardiff University and Caerphilly County Borough Council.
Cabinet Member for Regeneration and Public Protection Cllr Geraint Thomas said: "We're delighted to receive this offer of massive support from Welsh Government's Sustainable Management Scheme, which has been designed to meet the challenges faced by rural areas and unlock their potential.
"This is a community project which will work to engage landowners, commoners, local residents and schools with their river catchment and learn about the importance of healthy rivers and the biodiversity within them."