Tesco roundabout traffic improvements imminent
Categories : Press Release
11 Mar 2022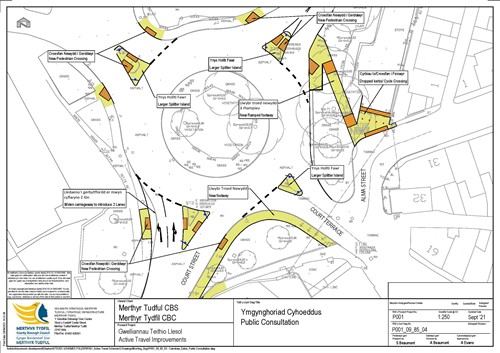 Work will begin on 14 March on traffic improvements at the Tesco roundabout to make crossing the road safer for pedestrians - the final set of current roadworks in the Council's Active Travel plan.
The scheme will see the creation of dropped 'tactile' crossings on each arm of the junction, along with central refuge islands to allow people to cross in two phases. There will also be a new ramped footway provided from Alma Street.
Cabinet member for Regeneration and Public Protection Cllr Geraint Thomas said: "Following our consultation in September 2021, the Council was successful in obtaining funding for Active Travel routes across Merthyr Tydfil.
"Work has already progressed along Avenue De Clichy, Bethesda Street, Victoria Street and, more recently, lower High Street.  We're pleased that the final phase of work is at the Tesco roundabout and scheduled to begin on 14 March. 
"The work will take around four weeks and we're not anticipating any road closures or traffic management.  Disruption will be kept to a minimum, while Health and Safety will remain our first priority."
The Council is looking to complement this work in the near future - funding dependant - by providing a crossing for pedestrians and cyclists at the bottom of Twyn Hill, and introducing a 'quiet street' along the Trevithick Trail.  We'll be consulting further on this as soon as funding is confirmed. 
Please email any comments to active.travel@merthyr.gov.uk