Treharris businesses safe to go!
Categories : Press Release
09 Sep 2020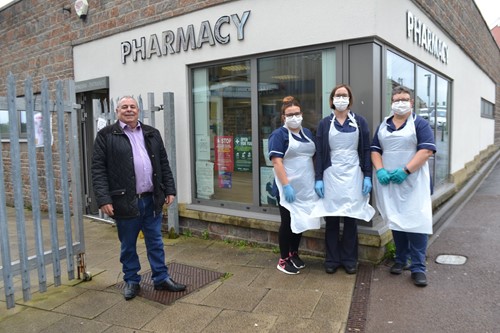 Treharris village centre has been made a safer environment to shop in after the Council donated PPE (Personal Protective Equipment) to a number of local businesses.
Officers presented more than a dozen premises with PPE including gloves, hand sanitiser, facemasks and visors, and floor stickers.
Perrot Street Café, Little Lambs Day Nursery, Jas Hair Design, Treharris Sportsgear, A&S Jones, Celebrations, Acorn Travel, First 4 Rentals, Karl's Cars, Top Square Convenience Store, Arra Cleaning and R&M Parry Chemist were among the businesses that received equipment.
Local ward member Cllr Gareth Richards paid each one a visit to check that they were happy with their stock.
"Our businesses are all up and running again, bringing a much-needed sense of normality to Treharris," he said. "They were pleased to receive the PPE and are all confident that they're operating safely."