We've digitized our fostering assessment and are ready for Foster Care Fortnight
Categories : Press Release
11 May 2020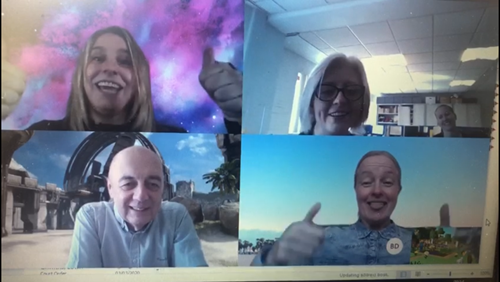 Merthyr Tydfil County Borough Council has responded to the social distancing measures we are all experiencing due to the Covid-19 pandemic. We are continuing to welcome interest from new foster carers wishing to support our vulnerable children and young people. 
The Merthyr Fostering team have been working hard to develop a new approach that uses technology like WhatsApp, Zoom and Teams to allow anyone interested in becoming a foster carer to start their assessment process. Something that had previously relied on a number of face-to-face meetings and training sessions.
Despite the uncertainty created by the Covid-19 pandemic, Merthyr Tydfil County Borough Council continues to have children who need to be cared for by foster carers on a weekly basis. Our existing team of foster carers are doing a fantastic job in unprecedented circumstances, but we need more carers able to offer a home to our children and young people.
Regional Fostering Development Manager, Alastair Cope, who has been at the forefront of this digital transformation said: "The recent social distancing restrictions caused by the Covid-19 pandemic has meant that we needed to adapt the way we do things whilst maintaining the high level of care our children and young people need. Our social workers, foster carers and support staff have been fantastic and embraced these new technologies to develop new ways of working."
Appealing to anyone who wants to foster, he added: "Anyone thinking about becoming a foster carer should contact us today. We can use the technology that works best for them to carry out the initial assessment and take people through the process to become foster carers in a similar way that we would have before the current restrictions were in place."
Today also marks the start of Foster Care Fortnight – a UK wide annual campaign organised by leading charity, The Fostering Network. The next fortnight is our chance to shine a spotlight on the fantastic work that Local Authority foster carers are doing and encourage more people to consider fostering for Merthyr Tydfil County Borough Council.
Like the Merthyr Fostering page on Facebook to see all the interesting content we will be publishing over the next two weeks. You can also visit www.fostercwmtaf.co.uk to find out more about fostering and contact us for a no-obligation chat over the phone.