Youngest generation must be at heart of Merthyr Tydfil's 'Cyfarthfa Plan'
Categories : Press Release
13 Mar 2020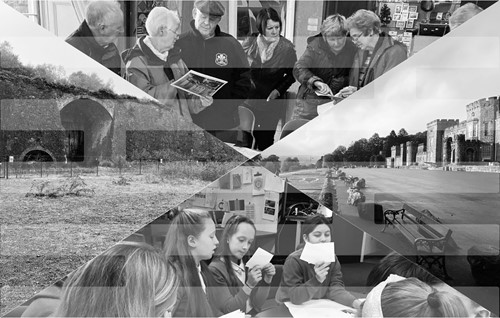 The younger generation must be our focus if the plans for transforming Merthyr Tydfil's Cyfarthfa Heritage Area are to succeed.
That is the message - from the team of consultants working on developing the 25-year plan for transforming Merthyr Tydfil's extensive historical assets - following nearly 60 consultation meetings and workshops carried out in the county borough.
In the first five months of a 12-month process to develop the plan, meetings and creative workshops have been held with primary and secondary school pupils and teachers, college students and lecturers, community groups, County Borough Council officers, Welsh Government officials and conservation organisation CADW.
"We have reached far and wide to speak to as many groups, organisations and members of the public as possible," said project leader Jonathan Shaw from Ian Ritchie Architects (iRAL). "The willingness of everyone to engage with us has been exceptional.
"We've had very honest and open discussions with all participants about Cyfarthfa, Merthyr Tydfil, its history, environment, culture, and the future. There is a clear pride in the town, with a real affection for its history, and an enthusiasm to bring about real change. We couldn't have wished for a better outcome."
Mr Shaw said the project was a long-term one, which meant that 'the voices, actions and involvement of younger generations must be part of shaping it'.

He added: "Future generations have a real stake in making a bold and imaginative impact, not only in the way the town's rich history and heritage could be interpreted, but also in protecting and enhancing its natural environment, and ensuring its diverse creativity flows.
"Although we are only a third of the way through our work, we can already see great opportunities that new experiences, enhanced educational possibilities and a renewed economy will bring. This Plan has to look to the future - simply acknowledging the past will not be enough."

Mr Shaw described it as essential that local people were given a sense of ownership of the project. "The plan should be born of the people who live, work and play in Merthyr."
Cabinet Member for Regeneration and Public Protection Cllr Geraint Thomas said Merthyr Tydfil's wealth of heritage assets included 223 listed buildings, one of which - Cyfarthfa Castle – is in the 'exceptional, national interest' Grade 1 category, 12 in the significant Grade 2* category and 48 Scheduled Ancient Monuments.
He said Ian Ritchie Architects were selected by the Council, working closely with the Design Commission for Wales, to lead the team to develop the Cyfarthfa Plan - not only for Cyfarthfa Castle and its 190-acre park, but also an area west of the River Taff that includes historic furnaces.
"We're delighted that the team has gone out into the community to gather local residents' memories and thoughts for the future of Merthyr Tydfil and that the process has been so successful," he added.
"We agree that the younger generation must be encouraged to play a leading role in the Plan – after all, it's they who will benefit from, and hopefully be caretakers of, the opportunities implementing it will bring."
Further consultations with schools, colleges and the wider public will be held before the final plan is scheduled to be delivered in September.

• Ian Ritchie Architects are hosting an 'ideas workshop' at Cyfarthfa Castle Museum on Wednesday 25 March.
The team will provide an update on the research and conclusions reached during the first stage of the Plan's development. Attendees will then have an opportunity to suggest ideas for events or educational programmes and 'built projects' such as physical ideas for the Castle, the furnaces and the landscape.
This workshop will be held from 6pm - 8pm and people are asked to arrive at 5.45pm for a 6pm start. Places are limited and will be on a first come, first served basis.

Community groups are asked to send a maximum of two representatives per group to increase the opportunity for wider participation. Please RSVP to reserve your place at CyfarthfaPlan@merthyr.gov.uk.
You can request that the Council provides simultaneous Welsh translation at the event by contacting cyfarthfaPlan@merthyr.gov.uk, tel 01685 727491 up to 48 hours before it begins.