Leader's Blog January 2020
Leader of Merthyr Tydfil County Borough Council, Kevin O'Neill
16 Jan 2020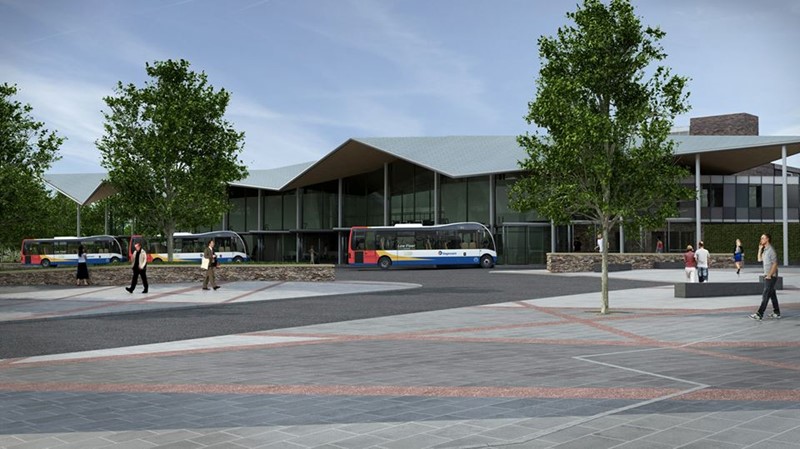 Happy New Year!
I wanted to start 2020 with a reflective look back at 2019 and some of the positive things that have happened for this Council and our communities. 
In March a delegation of Japanese businessmen on a fact-finding mission to South Wales visited Merthyr Tydfil Civic Centre to discuss their plans with councillors and economic development officers.
The visiting delegation's interests include biochemical research, together with cutting edge battery and solar technology. The group are interested in investing in South Wales and considering a base in Merthyr Tydfil.
In May one of Merthyr Tydfil's most historic churches was brought back into use as residential accommodation after lying derelict for more than 20 years in a £1.35m revamp.
The Grade II listed St John's Church in Dowlais, the burial site of former Dowlais Ironworks owner and MP Sir Josiah John Guest, was converted into 20 unique apartments with the support of Welsh Government funding of £500,000.
Hannah Blythyn AM, Deputy Minister for Housing and Local Government, officially opened Merthyr Tydfil's first residential project under the Welsh Government's Vibrant and Viable Places (VVP) Regeneration and Housing Programme.
The VVP funding, along with £850,000 from local developers Graft Projects, was used to restore the building's roof and exterior walls and complete a full renovation of the interior.
We also welcomed 'exciting news' in May, with the announcement of a Welsh Government offer of £10m funding for the new town centre bus station.
Welsh Government Economy and Transport Minister Ken Skates AM has approved the Council's Local Transport Fund application to commence work on the station in this calendar year.
May also saw Merthyr Tydfil's eclectic food offer broadened further, with the opening of the town's first Caribbean restaurant, Caribbean Cariad; the latest addition to the Council's innovative 'Meanwhile' initiative.
A total of 16 businesses have opened in Merthyr Tydfil town centre, a partnership approach improving the appearance of the town centre by bringing empty premises back to life, since the scheme began four years ago.
The Council's economic development officers, Merthyr Tydfil Enterprise Centre, Tydfil Training, Business Wales and property owners have all joined forces to provide support including preparing business plans and finding short-term rent-free accommodation. 
In August, world-renowned Ian Ritchie Architects (iRAL) was appointed to lead an international award-winning team of consultants to develop a masterplan to turn Merthyr Tydfil's Cyfarthfa heritage area into a £50m industrial heritage centre of international significance.
iRAL was selected by the County Borough Council and the Design Commission for Wales to develop a masterplan for a modern interpretive centre showcasing the town as a crucible of the industrial revolution and the world's largest iron producer in the 18th and 19th centuries.
In September the Council hosted a Meet the Buyer event at the Orbit Business Centre to give potential suppliers information on an extensive range of sub-contracting opportunities in construction of the bus station, which had begun in August.
Primary contractor Morgan Sindall was looking for companies providing services including scaffolding, security, bricklaying, carpentry, plastering, mechanical with design, electrical with design, flooring, steel doors and roller shutters, zinc roofing & cladding, painting & decorating, landscaping, signage, road markings, tiling and cleaning
Also in September, the 140-hectare Parc Taf Bargoed was set to see an ongoing clean-up programme following a grant of £417,000 from Welsh Government, matched by £60,000 from the County Borough Council and £30,000 from Natural Resources Wales.
The park, which was created following the regeneration of three disused coal mines, has 3.6 hectares of lakes that attract a wide range of wildlife. 
Later in September, we also welcomed the announcement of £700,000 for Cyfarthfa Park as part of Welsh Government's Valleys Regional Park 'Discovery Gateways' plans.
The money will be used on the further development of the Canolfan to provide better access and opening hours, a full-service café and community meeting space, and new toilets and changing provision at the Splash Pad.
In October it was announced that Merthyr Tydfil's tourism sector had a £100m economic impact locally in 2018 – an increase of almost £30m from the previous year.
The 35.4% rise was due to a 41% increase in the number of annual visitors from 1.27m to 1.79m and the number of full-time equivalent jobs supported by tourism up 31% from 917 to 1,200.
The increase in day visitor numbers was due partly to a big rise in attendances at the 17 visitor attractions across the county borough, along with 'influential factors' including the opening of the Trago Merthyr store.
Delegates at the County Borough Council's annual 'Destination Day' conference heard that the number of staying visitor days was also up 13.6%. This was due to the growth of bed stock, particularly in the non-serviced sector - hostel-type accommodation, caravan and camping, an extra 104 bed spaces at Rock UK Summit Centre and a mushrooming number of Airbnb establishments.
Also in October, two Merthyr Tydfil sports projects were awarded £420,000 for improvements to facilities that will benefit thousands of people across the county borough.
Merthyr Rugby Club and Treharris Area Community Trust (TACT) are set to receive the funding from the Ffos-y-fran Large Grant Scheme, the rugby club for the construction of a community hub at its Wern pitch and TACT to upgrade floodlights at its Parc Taf Bargoed football ground. 
This year also saw two successful Merthyr Tydfil 'Attendance Weeks' where the focus was on the importance of school attendance for both primary and secondary school pupils, and work is continuing on a number of projects and initiatives to improve our standards of education across the county borough. 
In the world of Recycling, Merthyr Tydfil topped the Eunomia Recycling Carbon Index; a league table that shows which local authorities' recycling activities are delivering the greatest carbon benefits, ultimately reducing our carbon footprint. Merthyr Tydfil ranked at number one in England, Wales and Northern Ireland, thanks to the efforts of our residents. 
Working in partnership with WRAP, our Keeping Up With The Joneses campaign continues to help us improve our recycling rates in Merthyr Tydfil by encouraging householders to recycle everything they possibly can from their homes.
A number of community 'Recycling days' in 2019 also collected over 20 tonnes of recyclable goods and waste from communities within the county borough.
I'm sure after reading the this, you'll agree that contrary to the Merthyr Express journalist's opinion in the article titled 'A busy and difficult year for Merthyr Tydfil Council' in the 9th January 2020 edition, Merthyr Tydfil has actually had a very exciting and productive year.
Looking ahead, 2020 will see the completion of our fantastic new bus station, the start of major redevelopment work at BikePark Wales, completion of the Townscape Heritage Initiative-funded refurbishment of a number of historic Pontmorlais buildings, and the unveiling of ambitious plans for both the development of the Cyfarthfa heritage area and further regeneration of the town centre.
Without a clear vision, aligned budget and a committed workforce, none of this could have been achieved.