Self Isolation Support Payment
If you meet ALL of the eligibility criteria, you are entitled to a Self-Isolation Payment of £500
You have been told to self-isolate by NHS Wales, Test, Trace, Protect service (TTP) on or after 23rd October 2020 or
Your child has been asked to isolate from their school, college or childcare setting on or after 23rd October 2020 (this applies to children up to and including Year 8, or up to age 25 if the learner has multiple and complex needs) or
You have been notified by the NHS COVID 19 app to self-isolate on or after 1st

 

February 2021 and
You are employed or self-employed
You cannot work from home and will lose income as a result
You or your partner are currently receiving at least one of the following benefits: Universal Credit, Working Tax Credit, income-based Employment and Support Allowance, income-based Job Seekers Allowance, Income Support, Housing Benefit and/or Pension Credit 
You may be entitled to Self-Isolation Payment of £500 if you meet all of criteria above, but:
You or your partner

 

Do Not

 

currently receive Universal Credit, Working Tax Credit, income-based Employment and Support Allowance, income-based Job Seekers Allowance, Income Support, Housing Benefit and/or Pension Credit and
You will face financial hardship as a result of not being able to work while you are self- isolating.
This application is for one person only and any further applications within the same household must be made by each individual.
Please ensure that you have the following before starting your application:
National Insurance Number
The dates of your isolation period –as notified by NHS Wales Test, Trace, Protect service (TTP)
Your most recent Bank Statement
Wage slip or proof of self-employment. 
If applicable:
Your child's name
Your child's date of birth
Your child's year group
The letter/ confirmation from the school advising your child to self-isolate
If you are applying due to being advised to self-isolate by the NHS COVID 19 app you will need to provide the following:
A screenshot (see example) which includes the wording "you need to self-isolate until (relevant date)"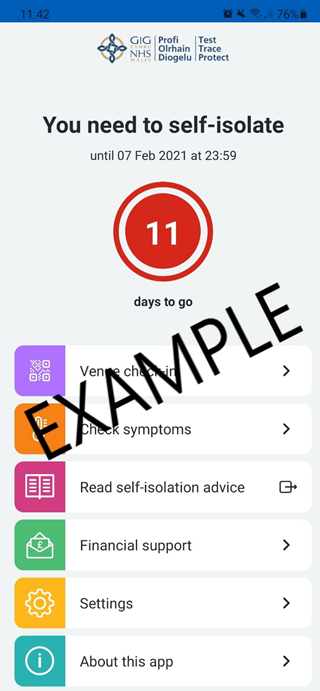 (If you do not have these at the time you apply then you will need to send them as soon as possible afterwards-your application will not proceed without them)
For more information on how your personal information is processed please use the following link https://gov.wales/covid-19-self-isolation-support-scheme-privacy-notice