Inspire2 Work
Inspire 2 Work (I2W) Programme
Are you aged 16-24yrs and currently unemployed? Is so I2W are still operational during this difficult time to support anyone between these ages who are looking for support into employment or training opportunities.
 Why not attend our Job Club - Every Wednesday 11am - 1pm @ Penydre Youth Centre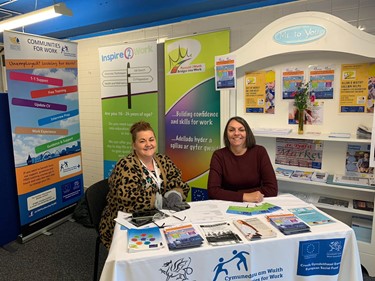 I2W is an ESF funded project and we can support you or guide you to other relevant organisations depending on what your support needs are or where you live.
We are able to offer you support with Job searching and application forms, writing or updating your CV, guidance to projects to support your Health & Wellbeing and free online training in:
Food Hygiene & Safety in Catering Level 2
Manual Handling Training in compliance with the CIEH Level 2 Syllabus and the UK H&S legislation
Please get in touch for more information by contacting:
Lesley Jones on 07784360847 via phone call or text or Email me at -  Lesley.jones@merthyr.gov.uk
I2W is operational Monday – Friday, 9am - 5pm.
Outside of these hours' messages and emails will be picked up and contact made on the next available working day.