Taff Bargoed Catchment Restoration Scheme
Restore the River 
Originally running through farms and villages in the Taff Bargoed valley, the river became part of the industrial coal mining landscape. Sections were straightened and run underground in a culvert past the Trelewis Drift Mine, the Taff Merthyr Colliery and the Deep Navigation mine.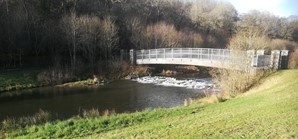 Land reclamation and regeneration after the closure of the mines brought the river back to the surface, and created lakes in Parc Taff Bargoed, used for recreation and wildlife. The movement of silt through the river system has been gradually settling in the lakes so we will redistribute the silt to keep areas of water clear for canoeing and angling. We will also use natural river management techniques to slow the silt upstream. This will benefit flood management, delaying rain water from hitting the rivers at peak flows.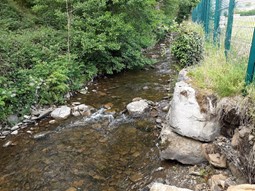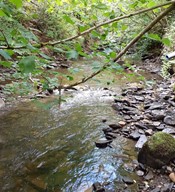 Merthyr Tydfil County Borough Council was awarded a grant for the project of £417,000 from Welsh Government's Rural Communities – Rural Development Programme 2014-2020 Sustainable Management Scheme, which is funded by the European Agricultural Fund for Rural Development and the Welsh Government. The funding went towards the total project costs of £507,287, matched by £60,000 from the Council and £30,000 from Natural Resources Wales.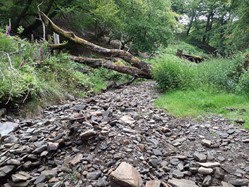 The Project will
Use natural flood management techniques to slow the flow of water into the Taff Bargoed. This includes planting up river banks with trees and shrubs, fencing bank edges to reduce erosion and fixing woody debris into streams to slow down water flow at peak rainfall times.  The project will help to reduce the risk of flooding downstream, and improve the environment for wildlife along the river.
Redistribute the silt already in the lakes at Parc Taff Bargoed to keep areas open for fishing and canoeing. The cost to remove the silt is too high, so we will create wetland areas around the lake edges to take the silt and leave deep water areas for recreational uses.
Get local people involved so they can continue to enjoy the river and lakes areas. We hope a keen group of community members could carry on their interest in the river restoration activities beyond the life of this project.
Want to know more? Rachel.Morton@merthyr.gov.uk
Want to know more about river restoration? The River Restoration Centre has information and case studies at https://www.therrc.co.uk/why-restore.