About The Current Mayor
Councillor Malcolm Colbran, Mayor of Merthyr Tydfil 2023/2024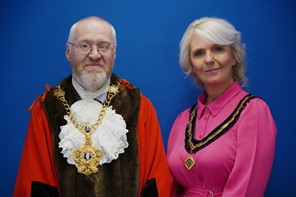 'Honorary Welshman' Malcolm becomes Mayor for a second time
Cllr Malcolm Colbran has been elected Mayor of Merthyr Tydfil for the second time in three years after Covid-19 prevented him from carrying out the role fully in 2021-22.
At the Council's Annual General Meeting on Wednesday 17 May 2023, immediate past Deputy Mayor Cllr Colbran took over from Cllr Declan Sammon as First Citizen of the County Borough.
Having grown up in Hailsham, Sussex, Malcolm moved to Merthyr Tydfil to take over Bedlinog Post Office in 2003. He has represented the Bedlinog electoral ward since 2017.
"While I'll always be proud of my Sussex roots, I'm equally proud to be an honorary Welshman and Merthyr Tydfilian," he said. "Those 20 years have flown by, and Merthyr Tydfil is now a major tourist destination attracting visitors from across the world to facilities such as Parkwood Outdoor, Dolygaer, BikePark Wales and – in my own ward – Rock UK Summit Centre.
"Merthyr Tydfil is the gateway to the Bannau Brycheiniog/Brecon Beacons National Park, and Zip World is just across the county borough border in Rhondda Cynon Taf," Malcolm added.
"There are exciting plans for the Cyfarthfa heritage area, and while we can all be rightly proud of Merthyr Tydfil's past and the role it played in the Industrial Revolution, we now look forward to attracting new businesses and more visitors and being part of a new, Green Revolution."
Malcolm's Consort for the municipal year 2023-24 is Nicola Bridges, who also served as his Consort last time.
The new Mayor's duties will include chairing full council meetings and representing the authority at formal and ceremonial occasions throughout the county borough, regionally, nationally, and internationally.  He will also welcome visitors to Merthyr Tydfil and attend and support events organised by local people and organisations. 
He has chosen to support two local charities: #4Tom, which was set up by the Bedlinog family of Tomas David Smerdon, who died in 2019 aged just 22. The charity is helping other young people suffering from anxiety, depression, suicidal thoughts and substance misuse causing mental health issues through counselling and support groups; and Friends of Greenfield, which raises funds to provide additional facilities to Greenfield Special School.
Deputy Mayor for the next year is Town ward member Cllr John Thomas, whose Deputy Mayoress will be his wife Debbie. John is well known in Merthyr Tydfil as a former pub licensee, football referee and League of Wales linesman, and current taxi business proprietor.
If you wish to invite the Mayor to an event, please contact mayoral@merthyr.gov.uk