Statement of Well-being
Well-being of Future Generations: A shared vision and common purpose in Wales
The Well-being of Future Generations (Wales) Act 2015 is about improving the economic, social, cultural and environmental well-being of Wales.  For the first time in law public bodies have a shared vision and a common purpose.
The Act, which came into force in April 2016, puts in place seven well-being goals to ensure we all work towards achieving the same shared vision and help build a common understanding across Wales.
The Act also places a legal duty on public bodies to adopt the sustainable development principle when setting well-being objectives and in taking steps to meet those objectives.  In the Act the sustainable development principle is represented by the five ways of working.  We are moving away from being reactive and becoming preventative by thinking long term and involving, collaborating and integrating with communities ('five ways of working').
Delivering Well-being in Merthyr Tydfil
Our well-being objectives have been prepared and being delivered in a time of challenge and change.  Doing different things, working smarter, making better use of our assets has never been so important.  The Council intends to make effective use of the Well-being of Future Generations Act to safeguard the well-being of Merthyr Tydfil now and over the long term.
The Act presents us with an opportunity to work differently when delivering our Council Plan.  We will do this by utilising the 5 ways of working and ensuring the 7 wellbeing goals are always at the heart of what we do.
Our Journey So Far …..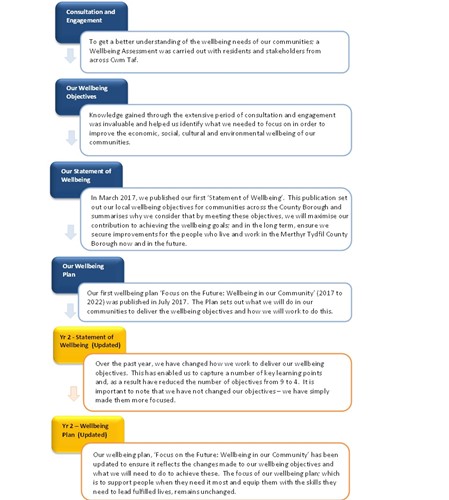 Our Well-being Objectives
Best Start to Life
Children and young people get the best start to life and are equipped with the skills they need to be successful learners and confident individuals.
Working Life 
People feel supported to develop the skills required to meet the needs of businesses, with a developing, safe infrastructure which makes Merthyr Tydfil an attractive destination.
Environmental Wellbeing
Communities protect, enhance and promote our environment and countryside.
Living Well
People are empowered to live independently within their communities, where they are safe and enjoy good physical and mental health.
How will we know if we are making a difference?
We have identified a number of key performance indicators that will be monitored, challenged and reported on as part of our ongoing performance and evaluation arrangements.  This will help us learn how well we are doing in meeting the wellbeing objectives set out in our 'Statement of Wellbeing'.
Each year, we will summarise the performance and progress made in the form of an Annual Report.  The next report will be available to read in September 2018.
In addition to monitoring our own performance, the Wales Audit Office also carry out independent reviews.  Each year the Wales Audit Office produces an annual improvement report.  This report sets out how well we are planning for improvement in delivering our services.  To read the latest 'Annual Improvement Report' please visit the Audit Wales website
List of documents and links
Previous versions of the Statement of Wellbeing and the Focus on the Future