A New Deputy Youth Mayor Elect for Merthyr Tydfil
Categories : Press Release
23 Oct 2021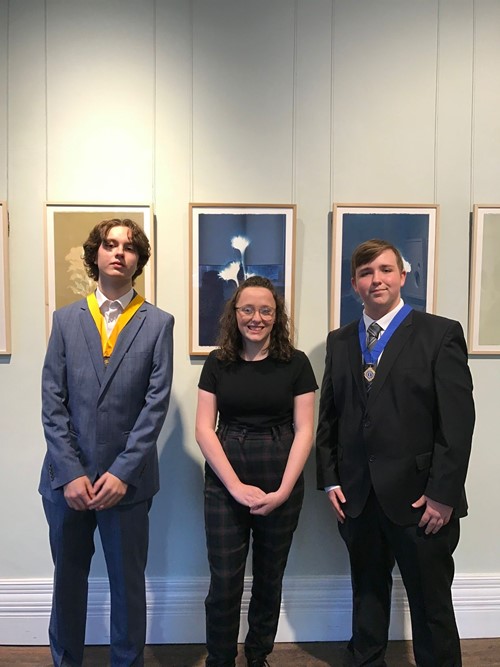 On Thursday, 21st of October, a new Deputy Youth Mayor Elect for Merthyr Tydfil was selected. Katy Richards, who attends Bishop Hedley High School was selected at the Merthyr Tydfil Borough Wide Youth Forum Youth Cabinet hosted at the Red House and will take on the role of Youth Mayor in 2023. 
In October every year young people across Merthyr have a democratic vote to choose the next Youth Mayor. This year there were six candidates in the running and Merthyr secondary school and College students used their voice to vote for their candidate.
The current Youth Mayor Andrew Millar said: "that the candidates were all fantastic and that Merthyr Tydfil Borough Wide Youth Forum congratulates them all for their commitment to the campaign. He said that the young people of Merthyr Tydfil are positive excellent role models in the community."
In attendance was the Mayor of Merthyr Tydfil, Cllr Malcolm Colbran, Council Leader and Education Cabinet member Cllr Lisa Mytton and Cllr Chris Davies.
Cllr Malcolm Colbran, Mayor of Merthyr Tydfil said: "Congratulations to Katy Richards on becoming Merthyr Tydfil's Deputy Youth Mayor Elect having been chosen from a field of 6 outstanding candidates. The Youth Mayor not only represents young people at events across the Borough but with the Cabinet members of the Merthyr Tydfil Borough Wide Youth Forum ensures they are seen and listened to. Their voice makes a real difference to services for young people so it's encouraging to see so many getting involved and wanting to improve our communities."
Cllr Lisa Mytton said: I was really pleased to have been able to attend the announcement of our Deputy Youth Mayor elect at the Red house, It was a lovely opportunity to meet all the candidates and chat to them. My congratulations to Katy on being elected and I was so pleased to hear that the other candidates were going to continue playing a vital part in the MTBWYF and its Youth cabinet who are going from strength to strength.
The Merthyr Tydfil Borough Wide Youth Forums are always looking for young people who are passionate about making a difference and ensuring young people have a voice.
For more information on the youth forum, please contact, Janice Watkins, Senior Youth Support Participation Officer, Email: jw3@smt.org.uk or contact the face book page @Mtyouth