Another year of success for Apprentices at the Council
Categories : Press Release , Council , Corporate
07 Feb 2022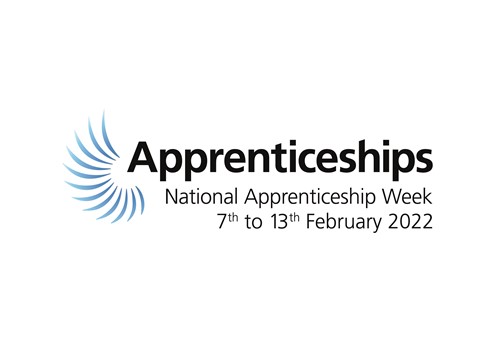 This week marks 2022's 'National Apprenticeships Week' 7th – 13th February, which brings together everyone that is passionate about apprenticeships to celebrate the value, benefit and opportunities that apprenticeships bring.
This year's theme is 'Build the Future' and at Merthyr Tydfil Council, we are strongly committed to building the sustainability of our future by supporting apprenticeship programmes. This year, 7 apprentices have joined MTCBC, with each specialising in different service areas. The aim of our apprenticeship programme is to develop and provide on-the-job skills to support our apprentices whilst also studying for a nationally recognised qualification. The qualification that each apprentice studies relates directly into the area they work in, which is incredibly effective as it gives them the knowledge to match up with the practical skills they learn in the workplace. This hybrid way of learning allows them to enhance key skills and improve competency when delivering services across the Council.
National Apprenticeship Week 2022 is a great opportunity to celebrate with all the apprenticeship community, promote the benefits of apprenticeships, of progression opportunities, of new exciting standards and showcase how apprenticeships work for individuals, employers, local communities, and the wider economy.
Chief Executive Ellis Cooper said, "In 2021's programme, we recruited 7 new apprentices in a variety of key departments across Merthyr Tydfil Council such as Data, Building Control, Learning & Development, Communication, Carbon and Energy and Parks. I think it is important to remember our duty to nurture and help to sustain the Council's growth by developing new employees through such a fantastic programme! In addition to this, our Aspire Programme has continued to support apprentices within the STEAM (Science, Technology, Engineering, Aeronautical and Mathematics) sector as well as building relationships with our host employers and working closely with our external partnerships. We have also had lots of existing staff sign up to apprenticeship pathways for qualifications to continually professionally develop. I am overjoyed to see some of the work that is being done in our organisation, it is a very exciting time for Apprenticeships in Merthyr Tydfil Council."
What do our 2021 - 22 apprentices have to say about their time working at the Council?
Aminah Ali, Carbon and Energy Apprentice, Level 4 Building Services & Level 4 NVQ Construction site supervision
"I have had a wide range of opportunities during my apprenticeship at MTCBC. I have been able to take part in training courses that develop my knowledge and understanding on carbon and energy. I have also been able to build relationships by meeting external contractors and I have assisted on a wide range of projects such as LED lighting upgrades and solar PV installation. I have also been able to develop my skills such as team working, planning, organisational and leadership skills."
Aled Williams, Building Control Apprentice, Level 3 Diploma in Construction in the Built Environment.
"I am currently studying Level 3 construction in the built environment at Neath College where I am learning skills such as the types of construction materials, CAD drawing and construction technology with some aspects of Civil Engineering. Since starting I have developed knowledge of the building regulations and over the new few months will be starting to Vet building plans and do some smaller site visits independently to further myself in my Job role."
Stacey Watkins, Learning and Development Apprentice, Level 3 Certificate in Learning and Development.
"The opportunity to work within Merthyr Tydfil County Borough Council as a Learning and Development apprentice has allowed me to gain an understanding of just how important training, upskilling, and investing in our staff is, not only within the Council but all organisations. Training and developing the skills of your workforce allows for staff to improve and plan their own future, focus on their performance, help build a strong, multi-skilled organisation and most of all job satisfaction."
Lloyd Howells, Social Media Apprentice, Level 3 Diploma in social media for Business
"So far, during my apprenticeship I have really enjoyed the balance between work and studying. All my colleagues have been extremely helpful when it comes to my course work and with giving me opportunities to shadow them to learn more than ultimately helps me understand my job role. I feel as though I am picking up new skills week by week."
Luned Francis, Data and Business analytics apprentice Level 4 in Data analytics
"I would recommend anyone who is looking for a career change or has just left school to take up an apprenticeship. It's an amazing opportunity to develop your skills and knowledge and a great introduction to your new career."
Brandon Burnell, Park Apprentice, Level 2 in Horticulture
"I used to do volunteering before I saw the apprenticeship advertised so I knew the area very well and felt completely at ease. I really enjoy the practical side and have been able to plant trees, double dig flower beds and use heavy duty machinery. I'm learning so much!"
Daniel Lewis, Park Apprentice, Level 2 in Horticulture
"I'm really enjoying my Apprenticeship as each day is different and I love being outdoors. The team have welcomed me and have been really helpful by showing me what I need to do. Part of my course involves learning the Latin names for plants which I'm finding really interesting!"
This week we'll be promoting our Apprentice Programme so keep your eyes peeled for more information on our social media accounts. #BuildTheFuture #NAW2022 #MTCBCApprentices
further information on opportunities to work for Merthyr Tydfil County Borough Council please click here: https://www.merthyr.gov.uk/resident/jobs-and-training/current-job-vacancies/?lang=en-GB&
To find out more about apprenticeships visit: www.apprenticeships.gov.uk