Bringing Casa Bianca to Merthyr Tydfil — our role at the Council
Categories : Press Release
24 Nov 2022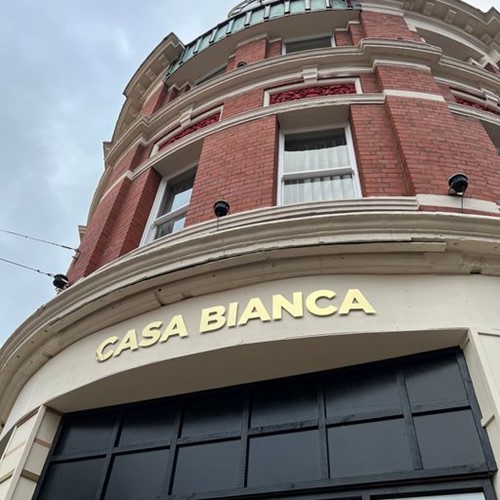 What's known as the Milbourne Chambers building is a well-known sight in Merthyr Tydfil town centre — with its recognisable clock tower and central location.
Despite having multiple occupants over the decades, the building is soon to begin a new chapter — with the arrival of Italian restaurant, Casa Bianca; the first eatery to occupy the space.
The new venture has been made possible by an investment from the Welsh Government's Transforming Towns Placemaking scheme — delivered in conjunction with our dedicated town centre regeneration team at Merthyr Tydfil County Borough Council and topped up by the business owner's own investment.
The Placemaking fund assists applicants to physically improve their property by offering the opportunity to apply for a grant for new shop/commercial property frontage and associated external and internal works. The intention of the fund is to enhance building frontages and bring vacant commercial floor space back into beneficial use.
Restaurateur Andreas Christou initially made contact with Merthyr Tydfil County Borough Council 18 months ago — to explore the possibility of bringing a restaurant to Merthyr Tydfil. His Abergavenny and Monmouth restaurants were already thriving, and with much of his customer base travelling from Merthyr Tydfil, Andreas saw an opportunity to expand.
Not only will the opening help keep people and trade within Merthyr Tydfil — when looking for that special venue for a birthday meal or a family get-together, for example — but it will also attract inward investment, helping other entrepreneurs to perceive our town as a great investment opportunity.
With the hard work and support of Merthyr Tydfil County Borough Council's regeneration team, Andreas was awarded the maximum value from the 2021-22 Placemaking scheme.
The property owner has also worked closely with Andreas and his team of developers to help make Casa Bianca a reality.