Bus station on schedule for spring 2021 opening
Categories : Press Release
09 Dec 2020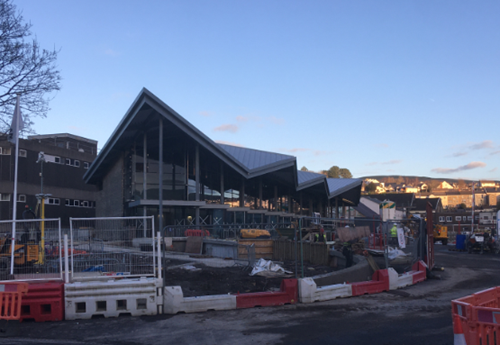 Work on Merthyr Tydfil's new bus station is almost complete, with the building on schedule for its planned spring 2021 opening.
The imposing structure is now clearly visible above the town centre skyline as it edges closer to becoming the finished article - a 21st century bus station that will be the hub of transport communications across the county borough.
The external cladding, glazing, stonework and zinc sheeting have all been completed. The construction of the roads, footways, retaining walls and kerbs and tarmac are progressing at pace, as are internal works including the décor, concourse timber, joinery items such as doors and kitchens, and public spaces and toilets.
"The site team are very excited at this stage of the project to see all of the hard work coming together in a high quality and prestigious build that we are all proud of," said Ross Williams, project manager for main contractor Morgan Sindall Construction.
"We continue to work in close collaboration with Merthyr County Borough Council and its representatives in delivering this impressive build. We are pleased to be in a position where we are completing elements of works for use by the public and delivering for the communities within which we work."
Cabinet Member for Regeneration and Public Protection Cllr Geraint Thomas said: "We've waited for such a long time to see this bus station built, and it's a thrill that it's finally nearly here.
"It will be a Merthyr Tydfil landmark and serve the town and county borough for many years to come. I'd like to congratulate Morgan Sindall Construction on not allowing this very difficult year to have slowed them down, and continuing to perform an excellent job of work.
"We'd also like to thank residents for their patience in putting up with traffic problems caused by the work – we want them to know that it will be well worth it."
Welsh Government awarded the County Borough Council £11m funding for the station, which will be located closer to the town's railway station, to complement its significant investment in the Core Valley Lines Rail Network.