#Camau nesa; #Camau bach: Making the success of the Welsh Language our destiny
Categories : Press Release
20 Jun 2023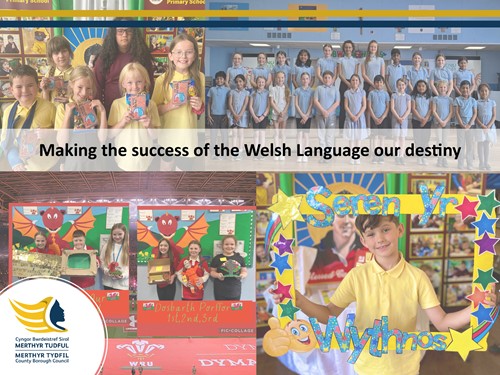 This Thursday, Jeremy Miles, Minister for Welsh Language and Education will see Merthyr 'join together as one' as he opens the first face to face Merthyr Tydfil County Borough Welsh Language Conference, which will be held at the Orbit Business Centre on Thursday 22 June.

The conference will allow us to celebrate our journey since launching the Welsh Education Strategic Plan and Welsh Language Strategy. To celebrate this, together with our great culture, heritage and history, the children and young people of Merthyr Tydfil will perform a specially written Merthyr Tydfil song 'Merthyr Forever.' Caedraw Primary School will proudly lead the performance.

Welsh belongs to us all and the conference will showcase the collaboration activities across a range of partners in ensuring the success of our strategies. Early Years education, workforce development, Welsh in the Curriculum and Welsh in the Community will all be a key focus for both celebration and discussions. We will welcome over 65 delegates from local and national organisations who have been and will continue to be part of that journey.

Welsh Language Champion, Cllr Michelle Symonds said;
"This is an exciting time for Merthyr Tydfil in the development of the Welsh language, where partners and the local authority are contributing to the Welsh Government Cymraeg 2050 strategy.

I am delighted to see the Welsh language growing in Merthyr Tydfil within our community and schools. We are building on previous projects which have taken place over the past year; it will just take small steps #camau bach, to make big gains! Join together with us as one!

We have our vision and our brand - 'Shwmaeronment.' We have seen the awareness of the Welsh language growing over the last three years. We have enjoyed community events such as Diwrnod Shwmae and the Christmas Fair and each year it gets bigger and better; we will continue to build on this success."

As the Merthyr Forever song tells us, we have a rich culture, history and heritage. Together, we can be make the success of the Welsh language our destiny.

Look out for our next steps, listen to our song, and join together in singing 'Merthyr Forever' celebrating who we are, where we come from and our future as one.