Canolfan and playground to reopen this week
Categories : Press Release
13 Sep 2021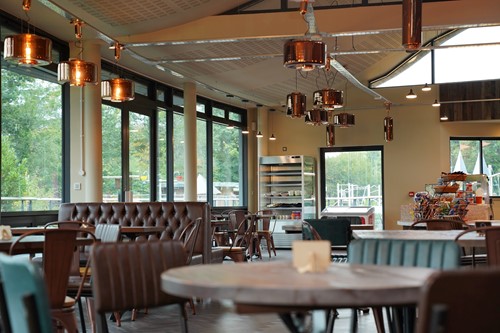 The Welsh Government-funded refurbishment of the Canolfan and play area at Cyfarthfa Park is complete, with the reopening taking place this Wednesday, 15 September.
The redevelopment has seen the construction of a new café, decking area with outdoor seating, the creation of a community meeting space, resurfacing of the play area and better access to the site through the construction of new paths, steps and a footbridge.
The £900,000 project is being funded through Welsh Government's Valleys Regional Park 'Discovery Gateways' programme.  The grant is also providing new toilets and changing rooms at the Splash Pad, which will not open until next year due to unforeseen problems with the foundations.
"We are delighted to be able to reopen the Canolfan after a frustrating 18 months for the construction industry," said Cabinet Member for Regeneration, Transformation and Commercialisation Cllr Geraint Thomas.
"We appreciate that our residents and their children have missed the facilities but their patience will be rewarded," he added.  "The Canolfan now has a stunning new open plan dining area, with wood panelling and an impressive lighting display creating a warm and welcoming space.
"There will now be opportunities for event catering such as children's parties, and mobile catering for areas of the park such as the lake and Pandy Field.
"The new toilets and changing rooms include facilities such as a hoist and other equipment to make changing easier for disabled people. The facilities will be available for local families and visitors attending events held in the park all year round."
Wellbeing@Merthyr Chief Executive Jane Sellwood said: "The refurbished facilities will be a fantastic addition to our wonderful Park, and we're sure that members of the public will be thrilled with them.
"Contractors Willis Construction have carried out an outstanding job in very frustrating circumstances, and the Canolfan now looks amazing," she added. 
"We're as disappointed as our residents about the delay in reopening the Splash Pad, but the contractors had to dig up the foundations.  Peak summer demand for wet play equipment installers resulted in further delays.
"In the meantime, we can't wait to welcome people back to what will be an absolutely top-notch play facility for children and meeting place for them and their parents."
The opening hours will be 10am-4pm Monday to Sunday during the winter.  Wellbeing@Merthyr will also be looking at putting on special events this Christmas period and taking bookings for activities outside core hours.  They will also be offering Christmas meals.
The Valleys Regional Park project is investing more than £6.6m in the 11 Valleys parks and heritage sites named as Discovery Gateways.