CCTV enforcement vehicle delivering results in fight against anti-social behaviour
Categories : Press Release
03 Mar 2022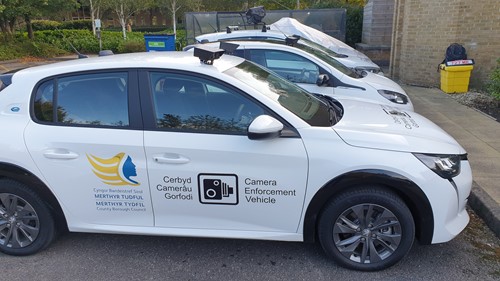 Merthyr Tydfil County Borough Council has invested in an enforcement vehicle fitted with the latest technology to help its fight against illegal parking.
Cameras on the parking enforcement vehicle photograph number plates and are enabling officers to prosecute offenders by way of penalty charge notices – civil offence charges rather than criminal.
"The cameras will be used by the parking department to capture vehicles parked illegally at zebra crossings, bus stops and zig zag markings around schools," said Cabinet Member for Public Protection Cllr Geraint Thomas.
"We're doing this so that our roads don't become blocked, our children are safe around schools and our streets and communities are not blighted by litter strewn everywhere."
State-of-the-art CCTV cameras now cover the town centre, the car parks have been made safer with improved street lighting, and gates have been installed at alleys where there have been issues with drug taking, drinking and fly tipping.  Our CCTV van has also been carrying out joint operations around hotspot areas for anti-social driving.
"We will use our full enforcement powers and issue fines where offences are captured in the hope of alleviating these issues," said Cllr Thomas. "Together we can tackle the problems and our residents' support in reporting issues via our website -www.merthyr.gov.uk 'Report it' - will assist us greatly."