Coed y Dderwen Eco Warriors fighting for a Greener Valley­­­­­­­­­­­­­­­­­­­­
Categories : Press Release , Education , Schools
06 Jun 2022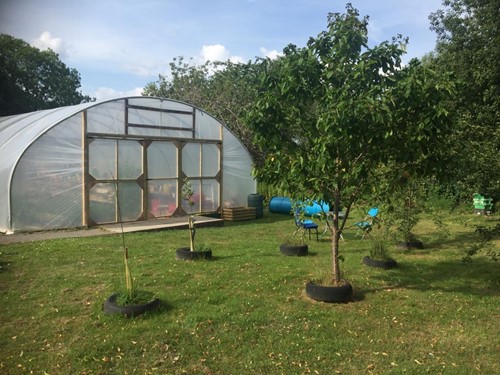 Pupils at Merthyr Tydfil's Coed Y Dderwen Primary School have been fully embracing post-lockdown classroom­­­­ time using polytunnels and forests in their personal war against climate change.
Under the leadership of the school's 'RFS Junior Forester-Awarded' eco-committee, pupils develop strong practical sustainability skills such as growing vegetables, fruits, and plants in the large polytunnel ecosystem. They also care for insects and birds within the school grounds; take on forest conservation activities, and regularly learn about recycling, waste reduction and water conservation, which they also put into action throughout the school.
The pupils follow through on an eco-strategy throughout the year where they learn about environmental responsibilities allowing them to transfer skills they develop to the wider community to promote a clean, safe, and cost-effective way of living. They have also already started preparing for a market stall in their school grounds for July, where they will sell produce and plants that they have grown over the past year to residents.  
With Mother Nature's vicious streak, residents have experienced all the problems of man-made climate change, such as erratic weather patterns, air pollution, heat waves, and changes in biodiversity. This has also come with associated economic and social costs as businesses and residents have struggled with issues like flood damage. A borough-wide resident survey this year found that over 85% of residents choose 'very important' or 'fairly important' on a question that asked, 'how important do you think it is for the Council to undertake activities to tackle climate change', evidence that residents are greatly concerned about the climate crisis. 
Coed Y Dderwen Headteacher, Sarah Townsin, said: "In Coed-Y-Dderwen, the importance of sustainability is fully embedded throughout our curriculum and future curriculum plans. Our aim is that all our pupils have an awareness of the world around them and how they impact on its future. We utilise our fantastic outdoor space and forest school area to enrich our curriculum, growing our own fruit and vegetables to inspire the wider community to be more sustainable in light of the cost-of-living crisis. We are so proud to be the first school in Wales to achieve the RFS Junior Forester Award and the children have thoroughly enjoyed taking part in the Queens Green Canopy Project, which has enriched their learning and provided them with increased knowledge of the environment around them. Our vision for sustainability and well-being continues to drive our school's passion for the outdoors."
One way in which the Council have been tackling sustainability is by actively investigating the feasibility of building Net Zero Primary and Secondary Schools by 2030, Coed Y Dderwen being one example of being close to that goal with high tech energy conservation measures throughout the school. The school has three major carbon footprint reducing features such as LED Lighting across the entire school, a boiler management system to allow for significant gas savings, and a state-of-the-art solar panel system installed on the roof of the school with no operational carbon footprint.
Newly elected Councillor and Education Cabinet Member for Merthyr Tydfil, Michelle Jones, said: "I really admire what the pupils and staff have done at Coed y Dderwen and how they have personally taken it upon themselves to respect the natural environments and develop sustainable practices. The practices at the school truly reflect what our RARS education strategy sets out to achieve in its visions and goals. These skills will forever set the pupils up for their futures and be a message to others to take on these practices and contribute to the fight against climate change. Coed y Dderwen is an exceptional example of a school going above and beyond to achieve this. The practices within this school understand the importance of corporate social responsibility in support of sustainable business practices in the County Borough.