Come to Merthyr Tydfil and get creative
Categories : Press Release
17 Jun 2022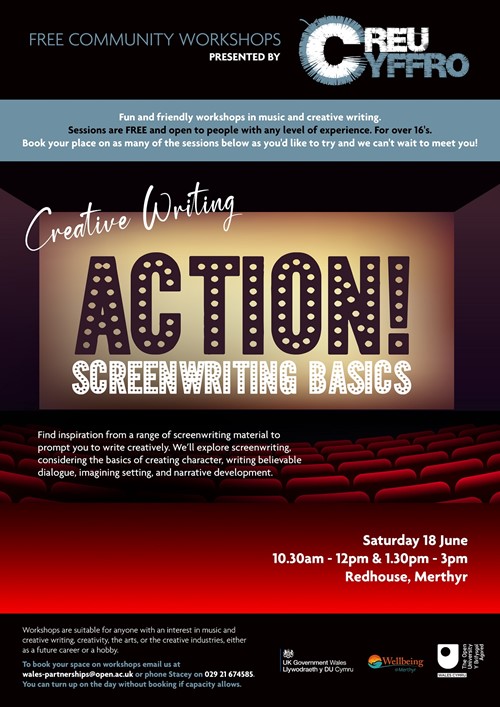 Local people interested in learning more about radio production and story and screenwriting have the opportunity this weekend to join a series of free courses at two Merthyr Tydfil venues.
 Redhouse Cymru and the 3G's Creative Hub in Gurnos are hosting four workshops organised by Merthyr Tydfil's £1m Creu Cyffro project creative training scheme to help residents become artists, musicians, actors and filmmakers.
The Wellbeing@Merthyr-coordinated Creative Industry Training Programme is being supported by 10 partners including Community Music Wales, Wales Millennium Centre, the Open University and Screen Alliance Wales.
The next six months will see a programme of training activities hosted by partner venues Theatr Soar, The College Merthyr Tydfil, Redhouse Cymru, The Bothy at Cyfarthfa Park, and the Creative Clinic, Gurnos.
At Redhouse Cymru on Saturday (18 June), workshops on Screenwriting Basics, Bringing a Story to Life, and Creative Writing Imagination Station will take place between 10.30am and 3pm.
And at the 3G's Creative Hub, the Radio Platfform course will take place on both Saturday and Sunday 18 and 19 June, from 11am to 4pm.
Please email merthyr@wmc.org.uk to book a place.
Merthyr Tydfil is one of only 100 communities across the UK selected to receive funding from the UK Community Renewal Fund, a £220 million scheme to help the economy recover from the impact of Coronavirus by supporting projects boosting local investment in skills, local businesses and communities, and helping people find jobs.