Consultation on plans to improve town centre section of Taff Trail
Categories : Press Release
14 Jun 2021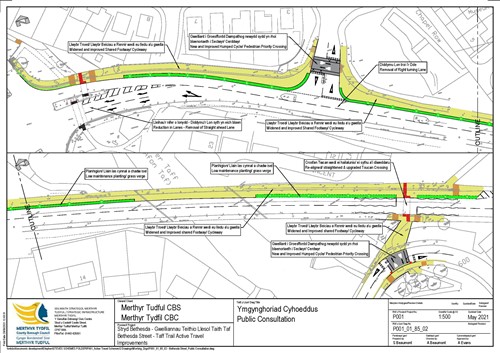 The County Borough Council is consulting residents on plans to improve the safety of and environment for pedestrians and cyclists using a busy town centre section of the Taff Trail.
The proposal is to create a shared route for pedestrians and cyclists running alongside Bethesda Street, from the pelican crossing near the Red Spice public house to the traffic-signalled junction with Swansea Road.
The existing footway would be widened, with the introduction of a planted verge.  The right turn lane and associated traffic islands would be removed and the lane widths of the carriageway reduced to significantly lower the current high speeds of traffic along the route.
The turning lanes at Bethesda Street would also be reduced from three to two lanes, again to minimise speeds of approaching traffic.
The mouth of the junction to Joseph Parry Cottages would be realigned to improve safety for pedestrians, cyclists and vehicles,
In future years the route will be extended, with improvements proposed from Red Spice and from the Mormon Church to the town centre, and additionally west to the point where the Taff Trail becomes an off-road route again.
To have your say on the proposals, please take part in the following short survey, which is running until midday on 2 July 2021: https://bit.ly/3zsF76r
We are also having two virtual meetings via the Teams platform on Monday 28 June at 12.30pm and 6.30pm for residents to hear more details and ask questions.  Please email active.travel@merthyr.gov.uk to confirm if you would like to join by midday Friday, 25 June.