Council staff take on high level Welsh language skills in Nant Gwrtheyrn
Categories : Press Release , Council , Corporate
26 May 2022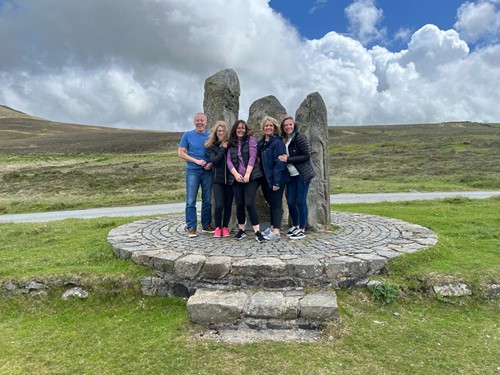 Recently, five members of the Council staff had an excellent opportunity to further improve their Welsh language skills under the tutorship of Rhian Lloyd James at Learn Welsh Glamorgan.
They travelled to Nant Gwrtheyrn from May 16 to 20th on a week's residential course to gain the opportunity to learn and practise speaking Welsh. They have already been learning basic Welsh skills since 2016, and this was the next stage in their journey in developing higher level Welsh language skills, so that they can support the Welsh language community across Merthyr Tydfil.  
The staff members who attended this unique course were Mark Price, Susanne Powell, Lynsey Jones, Linda Clifford, and Rhiannon Evans.  It gave them a valuable opportunity to speak, write and practise their Welsh which supports the implementation of the Welsh Language Standards within the Council.
Lynsey Jones one of the learners who attended the course, said "Last week, our Welsh in the Workplace class were given the opportunity to go to North Wales and stay in the Welsh Learning Centre, Nant Gwrtheryn, to further our Welsh. We were very lucky that this course was funded by Llywodraeth Cymru and our stay was funded by MTCBC. Over the course of the week we attended classes, took part in activities and met other learners from all over Wales. All this was done through the medium of Welsh, which is something we never thought we would be able to do when we stepped through the doors of our first lesson in the Civic Centre a few years ago. Since coming back from Nant Gwrtheryn, we have all agreed that our confidence has been boosted, something that we all needed after the Lockdown. We are all speaking more Welsh to each other, we are thinking more in Welsh and some are even thinking of applying for jobs in a Welsh setting"