Councillor Malcolm Colbran, Mayor of Merthyr Tydfil 2021 / 2022
Categories : Press Release , Council
20 May 2021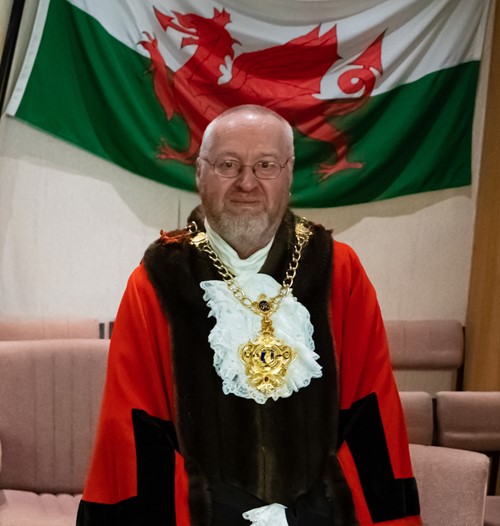 At the Council's AGM on Wednesday 19th May 2021 Councillor Malcolm Colbran was elected as Mayor of Merthyr Tydfil for the municipal year 2021 – 2022.  His Consort will be Nicola Bridges.
Malcolm, who lives in Bedlinog, has represented the Bedlinog Electoral Ward since 2017.
As First Citizen of Merthyr Tydfil, Councillor Collbran's duties include chairing full Council meetings and representing the Council at formal and ceremonial occasions throughout the county borough, regionally, nationally, and internationally.  He also welcomes visitors to the county borough and attends and supports events organised by local people and organisations. 
Malcolm grew up in Hailsham, a Sussex town 8 miles inland from Eastbourne and lived for many years in a small village called Horam, famous as the home of Merrydown cider. 
In 2003 he bought the Post Office in Bedlinog where he was welcomed by the local community and, maybe in another 20 years or so, he might be considered as a local himself!
Malcolm remembers the first time he drove up the valley through Trelewis past Stormtown and getting his first glimpse of Bedlinog in the distance, clinging like a limpet to the side of the mountain, thinking wow!  All these years later he still gets that same feeling every time.  Speaking of Bedlinog, Malcolm says there is a strong sense of community spirit and he can't imagine ever living anywhere else.
Malcolm has chosen two charities to support during his year in office, both of which have a close personal connection to him. They are 2 Wish Upon A Star and #4Tom.
It's hard to imagine anything more devastating than the loss of a child and families receive amazing help from the charity 2 Wish Upon A Star, who offer immediate and ongoing bereavement support for families, individuals and professionals affected by the sudden and traumatic death of a child or young adult aged 25 or younger.
2 Wish Upon A Star supported the family of Tom Smerdon.   In March 2019, aged just 22, Tom took his own life. Suicide is the biggest cause of death in men under 45 and often there are no obvious warning signs that someone may be struggling. Tom's family have set up a charity in his memory #4Tom, to raise awareness around the issues of mental health in young adults and to prevent suicide.  This work has become even more important following 15 months of restrictions, with more and more young people seeking help for their mental health.
Deputy Mayor for 2021/22 is Councillor Declan Sammon, Ward Councillor for Dowlais. 
If you wish to invite the Mayor to an event please contact mayoral@merthyr.gov.uk