Diversity a Grand Slam for Edwardsville Girls Rugby Team
Categories : Press Release , Education , Schools
22 Jun 2022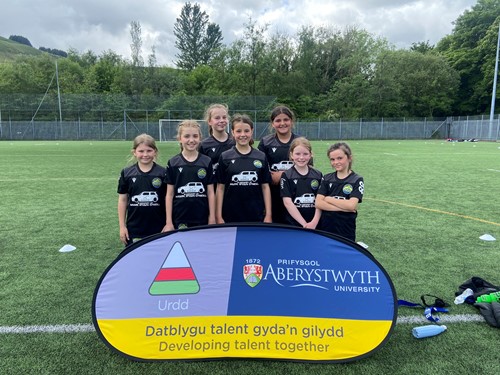 Girls at Edwardsville Primary School have tackled their way to the semi-final of the Urdd eisteddfod tournaments, playing within a TAG rugby team and championing diversity in sport.
The girl's rugby team recently reached the semi-finals of the national Eisteddfod competition and will also be taking part in a mixed gendered rugby game with the Urdd on July the 5th. Under the training of the school's coach, Ethan Griffiths, they have been developing their playing skills since last year.
The school encourages anyone with a passion for rugby to join regardless of gender, and the rugby sessions involve tackling and TAG sessions which also improve overall bonding skills. The girls can decide which sessions they want to take part in and what they are comfortable doing with a mix of no contact and contact rugby games.
In addition to this, the rugby team have designed their own kit with the support of scrum-half Welsh rugby union player Tomos Williams. Tomos also donated a signed Rugby ball for the school raffle, and in total, £1200 towards was raised from the prize draw event for the girl's rugby kit and equipment.
Cllr Michelle Jones, cabinet member for learning, said "As a mam who has personally championed my daughter and son to play whatever sports they want, it's so wonderful to see this representation happening across the board for all genders in sports within schools. Rugby has always been a massive part of my life having also previously been the Secretary of the Mini & Junior Section of Merthyr RFC for 5 years.  It's incredibly important that we see diversity in our schools, further enabling students to pursue their dreams and getting rid of any barriers preventing them from competing. Edwardsville is an example of this, and I will be championing for more of this across our schools in the Borough"
Edwardsville Primary Headmistress, Liz Edmunds, said "We are really proud of our school's rugby team – the squad keeps growing and we now have 30 children training each week. We are really keen that all children have the opportunity to take part in sport. I would like to take this opportunity to thank Treharris Co-op,Mr Paul O'Neil and The Barber shop Merthyr ( Cath Lewis) for sponsoring our new kit which the children designed. We are looking forward to the next tournament on the 5th of July when our mixed team competes.
Diversity and Equalities Champion, and Treharris Cllr Gareth Richards, said "I'm delighted to see sports which have usually been male dominated being opened up to all genders. Whilst there is more to be done, it shows the progress which has been made in recent years, led by some excellent national role models. I'm specifically delighted for Edwardsville Primary School where I'm also a school governor and wish them good luck on the 5th July"