Eisteddfod performers finally get to sing their hearts out to a live audience
Categories : Press Release , Schools
01 Apr 2022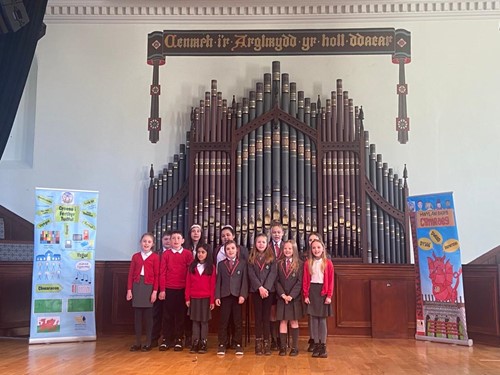 Yesterday, Pupils from schools across Merthyr Tydfil took to the stage at Theatre Soar to perform an array of creative talents.
Ysgol Cyfarthfa, Coed y dderwen, Heol gerrig, Caedraw, Twynyrodyn, Gellifaelog and Pantysgallog primary all performed a variety of acts ranging from monologues, vocal performances, and dance routines.
This is the first in person Eisteddfod Cluster that Merthyr Tydfil Council have organised and will develop on its success for next year. Coming out of the pandemic and having the opportunity to finally perform to a large audience is a massive boost for young people and allows for creative arts to thrive once again across the Borough. Their contribution to the arts scene in Merthyr Tydfil is also one way in which schools are strengthening the use of Welsh language through creative endeavours.
Sue Walker, Chief Education Officer, said: "it was wonderful to see children from across the Cyfarthfa and PenyDre cluster schools celebrate their successes from the cluster eisteddfodau, whilst children from the PenyDre cluster schools have been coming together for a number of years to compete in a cluster eisteddfod, this was the first year that a similar event took place for the Cyfarthfa cluster schools and we hopefully this will expand across other clusters in the future. Llongyfarchiadau to all the children who took part this evening and in the actual events. An opportunity to really showcase the work being done across our schools to develop our #Shwmaeronment."