Former bakery reborn as new boutique hotel and bistro
Categories : Press Release
14 Mar 2022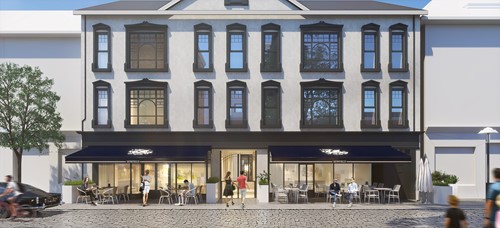 As well as growing a reputation for quality dining, Merthyr Tydfil is also making its name in the luxury accommodation sector, with work progressing on a new boutique hotel due to open in the autumn.
The famed former local bakers & confectioners building owned by Howfield & Son is to be brought back to life in spectacular fashion as a hotel and bistro, also offering self-contained residential apartments.
The High Street premises is undergoing a £1.5m refurbishment and will feature a bistro/bar on the ground floor, and boutique hotel and 23 flats, finished 'to a high specification' throughout.
Merthyr Tydfil County Borough Council has helped developer RWP Properties secure grant funding of £462,000 and £308,000 loan finance from Welsh Government's Transforming Towns initiative.
The project is part of the 15-year Merthyr Tydfil Town Centre Masterplan, which links strongly to Welsh Government's Transforming Towns agenda for increasing footfall in the town centres by tackling empty buildings and vacant sites and bring them back into use. 
Cabinet Member for Regeneration, Transformation and Commercialisation Cllr Geraint Thomas said: "We're thrilled to see the renaissance of Merthyr Tydfil continuing apace with this latest exciting and timely project. 
"It will help breathe life into the town centre, creating luxury accommodation of the type you usually only find in cities.
"This will support and enhance the growing tourism sector across the county borough, as well as creating a new residential offer and a high end restaurant to enhance the evening economy."
Welsh Government Deputy Minister for Climate Change Lee Waters said: "Town and city centres across wales are facing real challenges that are only getting tougher in recent years.
"Our Transforming Towns programme aims to support growth in these centres to ensure they are great places to live, work and visit in the future.
"This project in Merthyr Tydfil is a great example of what can be achieved and I would like to congratulate all involved in the ongoing delivery of this successful programme."
Director of Glynneath-based RWP properties Richard Powell said: "I've been watching Merthyr Tydfil and how much things have changed and developed over the last few years.  The right building came up for us as a business and we jumped at the chance."
Richard said the building was situated within a stone's throw of Merthyr Tydfil train station and new bus station, and was 'the right size to create something great there for the town'.
He added: "We are developing a building that RWP Properties and Merthyr Tydfil residents can be proud of. Mr Howfield and his family owned the building for a long time and employed many local people over the years.
"We are creating new flats and bringing a building to Merthyr Tydfil residents and businesses that is like no other on the High Street."
The project is scheduled for completion in September 2022, and the company is working closely with the Council to secure future tenants.
CGI picture credited to: 
George and Co ltd.
Architecture + Design