Former Llysfaen Respite Care Homes Cefn Coed Y Cymmer
Categories : Press Release
21 Oct 2022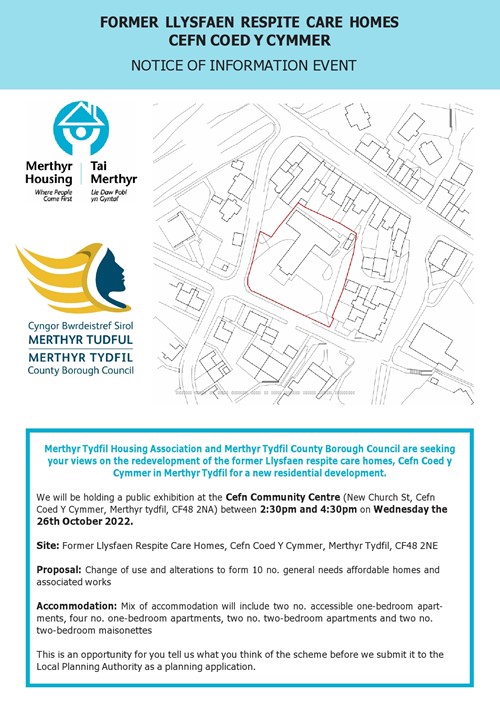 Merthyr Tydfil Housing Association and Merthyr Tydfil County Borough Council are seeking your views on the redevelopment of the former Llysfaen respite care homes, Cefn Coed y Cymmer in Merthyr Tydfil for a new residential development.
We will be holding a public exhibition at the Cefn Community Centre (New Church St, Cefn Coed Y Cymmer, Merthyr Tydfil, CF48 2NA) between 2:30pm and 4:30pm on Wednesday the 26th October 2022.
Site: Former Llysfaen Respite Care Homes, Cefn Coed Y Cymmer, Merthyr Tydfil, CF48 2NE
Proposal: Change of use and alterations to form 10 no. general needs affordable homes and associated works
Accommodation: Mix of accommodation will include two no. accessible one-bedroom apartments, four no. one-bedroom apartments, two no. two-bedroom apartments and two no. two-bedroom maisonettes
This is an opportunity for you to tell us what you think of the scheme before we submit it to the Local Planning Authority as a planning application.