Four of Merthyr's Shining Stars nominated for Child of Wales Awards
Categories : Press Release
16 Feb 2023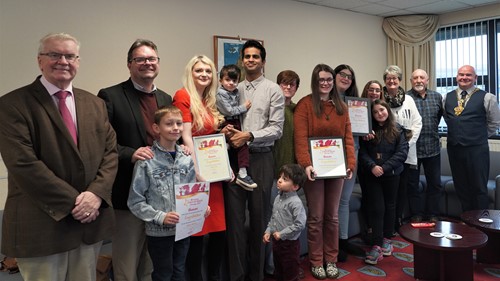 The Child of Wales awards have returned for 2023, bigger and better than ever, with the aim of showcasing achievements of young people across Wales whilst raising funds for Welsh charities dedicated to helping children: Ty Hafan and Hope House.

Amongst the nominees for the prestigious Child of Wales Awards are four remarkable young people from Merthyr Tydfil.

Deryn, Elliott, Issac and Miley have all been nominated in recognition of their determination to overcome personal challenges, for their selfless charitable work and the positive difference they have made in their communities. We're shining a spotlight on the incredible four and sharing their inspirational stories.

Deryn (17)
At just 11 years old, Deryn and her family found themselves homeless. In the face of adversity, Deryn remained positive and vowed to spend her life doing what she could to help others.

In 2017, tragedy struck when she learned a friend, who was a Commonwealth Judo competitor, had a terminal brain tumour.  This sparked a journey filled with charity work and raising awareness through the sport.

Always thinking of others, Deryn - who lives with ASD, gives her time to sit on the board of the National Youth Sports Trust and Disability Sports Wales, as well as the Welsh Sports Youth Panel and Inclusion, Diversity and Ethnicity panel for British Judo.

Deryn proudly holds the title of #Felmerch Ambassador (girls in sport in Wales) and is an active ally for the LGBTQ+ community.

Eliot (11)
Elliot has always been determined to do what he can to help others and make a positive difference. When he learned the tragic news that his grandmother had been diagnosed with bowel cancer, Elliot wanted to help.

Setting himself a challenge, he jumped on his bike and during the whole month of June 2022, he cycled and cycled and cycled. Elliot covered an incredible 157 miles in memory of his wonderful Nan, and raised £1,600 for Bowel Cancer.

Edwardsville Primary nominated Elliot for this award as they were blown away by his charity work and believe he's a true superstar.

Isaac (3)
Isaac was born prematurely, with his twin, at just 28 weeks and spent the first 6 months of his life in ITU. Living with multiple health issues and challenges, including being tube fed, chronic lung disease and having five 5 holes in his heart, Isaac continued to fight, defeating the odds stacked against him.
Isaac's family received the heart wrenching news that he may never talk or walk, but through sheer determination and strength, he took his first steps on New Year's Day, aged two. The family decided to mark this occasion by walking 1km for Cerebral Palsy Cymru, raising over £1,500 for the charity.
He is a determined, brave boy who, despite the challenges, remains positive, happy and brings joy to everyone around him. Using his social media presence, Isaac is an advocate and proudly raises awareness of prematurity, disability and ill health in young children.

We wish Isaac all the best for his upcoming open heart surgery.
Miley (12)
Miley is a remarkable girl who lives with autism, ADHD and a sensory processing disorder.

Although she is hugely affected by anxiety, Miley is determined to thrive and always thinks of others, even though her personal challenges are unimaginable.

After years of bullying, and the heart-breaking news of learning her Granddad has cancer, Miley continued to focus her time and energy on helping others. She is a proud ambassador for autism and was instrumental in encouraging all schools in Merthyr Tydfil to promote and support Autism Awareness Week.

Along with these incredible achievements, she fundraised for those fleeing Ukraine and even raised much needed funds for Cancer Research, for her Granddad.

The ceremony will take place Friday 24 March 2023 at Mercure Holland House Hotel Cardiff.
Home | Child of Wales Awards (nationalchildrenofwalesawards.org)