Give items a 'New Lease of Life' at Merthyr Tydfil's newest re-use shop!
Categories : Press Release
03 Jun 2021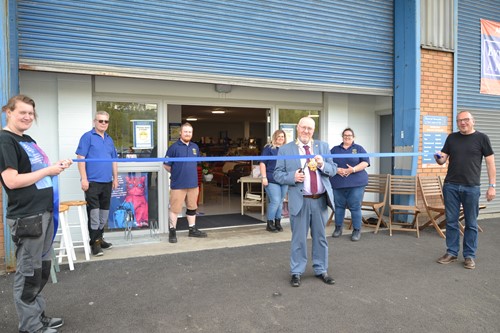 The shop, which is based in Pentrebach, is operated by Wastesavers – a Third Sector Social Enterprise and registered charity based in south east Wales, dedicated to social, environmental, and economic sustainability.
Working in partnership with the council, their aim is to divert as many items as possible from landfill by giving people somewhere to take their unwanted items and selling them on at a discounted price. The charity also makes sure that people in need have access to things such as furniture and IT by making donations through local organisations to families and individuals who need them.
A New Lease of Life opened its doors on 12th April 2021 and in just one month saved over 2,500 items going to landfill.  Beth Rosser, Wastesavers Area Manager said: "We've had an amazing response from people since opening. Customers constantly tell us they just can't believe what people throw away. Residents also love the idea that their unwanted items have a chance of finding a new home rather than going in a skip."
Alun Harries, Wastesavers Charity manager, said: "We are really pleased A New Lease of Life has got off to such a good start, especially considering the covid restrictions.
"But this is not only about saving reusable items from going to landfill.
"We have created three new jobs and plenty of volunteering opportunities.  This would not have been possible without the fantastic support and input from Merthyr Tydfil Council."
Councillor David Hughes, Portfolio Member for Neighbourhood Services, said: "I'm absolutely delighted that this shop has opened its doors in Merthyr Tydfil.  It gives people the opportunity to recycle their unwanted items by giving back to the community and supporting those who may need it. That's a great feeling for everyone involved. 
"Customers of the shop often comment that it's a 'crime' what people will throw away, so we thought we'd have a bit of fun with that today!
"I really hope that this official opening will raise the profile of the shop and that more and more residents will not only chose to donate to it, but to shop there too."
A New Lease of Life is based at Unit 20, Merthyr Industrial Park, Pentrebach CF48 4DR and is open Monday to Friday from 09.30 to 16.30 and Saturday from 09.00 to 13.00.