Go Team Astro! Caedraw zooms into First Place at F1 National Finals
Categories : Press Release
30 Jan 2023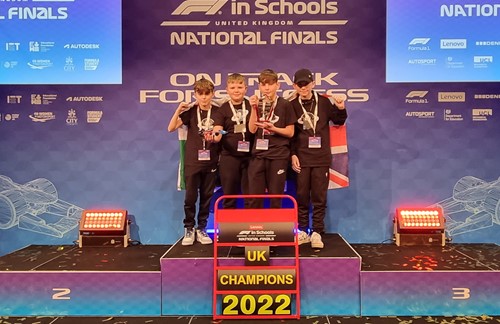 A small but mighty team from Caedraw Primary School made the long journey to Birmingham to compete in the F1 in Schools UK National Finals.
Held at the NEC, the Autosport Show hosts the Formula 1 in Schools STEM competition where children are challenged to design, build and race a gas canister-powered model Formula 1 car.
Caedraw Primary is proud of its strong history in competing, including being crowned as previous F1 winners, successfully led by Miss Jodi Stokes and Mr Scott Beale.
'Team Astro' consisting of Joshua Pike, Korey Mason, Alfie Williams and Jake Williams were the students selected to represent the school after a Year 6 project in the summer of 2022. The project encompasses the new Curriculum for Wales, offering pupils opportunities for authentic learning, community collaboration and increased understanding of the world of work.
However, timetable changes by the organisers of the competition meant that the boys had moved onto their Secondary Education at Cyfarthfa High School by the time of the Regional Competition. The team returned to Caedraw to compete and came second place in the Regional Finals, beating 24 other teams. This result qualified them to compete in the UK National Finals in Birmingham.

Dawn Williams, Headteacher told us:
"The best 26 teams from across the UK were chosen to compete at the finals. On the day, Team Astro were quizzed by three sets of engineering judges about the work that they had completed, and then raced their car.
"While the car was lined up to race, the boys were interviewed live on You Tube and then it was up to Alfie, the driver, to hold his nerve and try and get the best racing start for the car. Despite being very nervous, Alfie performed magnificently, producing consistently fast reaction times on the car launch button.
"The first prize announced was the fastest car, won by Team Astro. The prize for the best pit display was announced next, and the boys had won that too! They were also thrilled to be in the top three placings for their verbal presentation and engineering.
"The final prizes were the overall podium results, everyone was on the edge of their seats. Third and second places were called and then Team Astro were announced as Champions!
"We were delighted. The team had done it! All the hard work and effort had paid off."