Innovative housing and learning project shortlisted for awards
Categories : Press Release
27 Oct 2022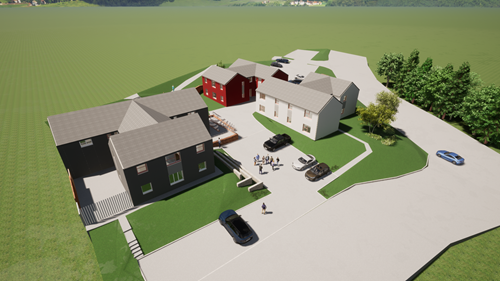 The redevelopment of the County Borough Council's Neighbourhood Learning Centre (NLC) at Gurnos has been shortlisted for two national awards.
The building, which will open before Christmas as 'a unique accommodation centre' providing both housing and on-site training for residents aged 16-24, is one of the finalists in the Chartered Institute of Housing Cymru's Welsh Housing Awards.
Shortlisted in the 'Working in Partnership' category alongside Merthyr Valley Homes, this award 'celebrates partnership and collaboration across the housing spectrum'.
The 'Positive Placemaking' category acknowledges 'the critical importance of a range of bodies, organisations and local groups in revitalising and regenerating local communities and neighbourhoods'.
It also recognises activity that aims to create places that are 'healthier, wealthier, fairer, smarter, stronger and greener. Projects should work in partnership with funders, service providers and most importantly, communities, to encourage successful regeneration that contributed to a wider vision and brings benefits to all customers'. 
The NLC opened originally as residential flats, but for the past 25 years has been used as an educational base to help unemployed young people and adults get jobs in a range of vocations including carpentry, plumbing and construction, hairdressing, and pottery and ceramics.
As part of the Council's Capital Programme investment project, the centre's employability and training facilities are being relocated into two of the three building blocks, with the third converted into five self-contained apartments. The Cwm Taf Morgannwg Integrated Care Fund Discretionary Capital Programme awarded the scheme £1.1m.
The project is being developed by the Council's Housing, Children's Services, and Employability teams in partnership with Merthyr Valleys Homes to provide much-needed supported accommodation for young people who have experienced care or leaving care and/or are at risk of homelessness.
Council Leader Cllr Geraint Thomas said: "We're thrilled that this exciting project is already being recognised for what it's setting out to achieve. The revamp will attract young people to the great quality accommodation and fantastic training and skills offering to help grow and create a brighter future.
"The whole project will have a fantastic effect on placemaking, regenerating not just the underused and tired looking building for accommodation, but also the surrounding areas," he added.  "It will become a vibrant and attractive place to live, visit and gain skills and training to lead to employability."
The redevelopment is progressing well, with one of the blocks complete and staff in situ.  The accommodation block will be completed and ready for occupation before Xmas.
The Welsh Housing Awards will take place on 18 November at The Celtic Manor Resort.