Irishman Declan elected Mayor of Merthyr Tydfil
Categories : Press Release
27 May 2022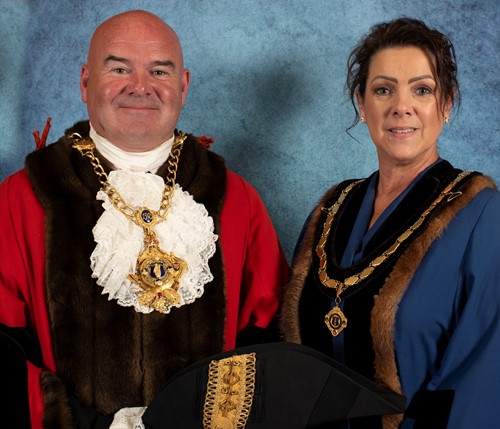 An Irishmen who 'fell in love' with Merthyr Tydfil on a visit 21 years ago has been elected Mayor of the county borough for the municipal year 2022-23.
Cllr Declan Sammon, who lives in Dowlais and has represented the Dowlais electoral ward since 2017, took office at the council's Annual General Meeting.
As First Citizen of Merthyr Tydfil, Cllr Sammon's duties will include chairing full council meetings and representing the authority at formal and ceremonial occasions throughout the county borough, regionally, nationally, and internationally. He will also welcome visitors to Merthyr Tydfil and attend and support events organised by local people and organisations.
Declan was born in Clarecastle, a village just south of Ennis in County Clare, and first came to Merthyr Tydfil in 2001 in search of a business property to buy.
"I just fell in love with it," he said. "I've lived in quite a few different places, all of them wonderful, but none compared to Merthyr Tydfil - which I now call home. The people are honest, friendly and welcoming, and it's been a pleasure to work for the residents in my role as a councillor over the past five years."
The new Mayor has chosen to support two local charities: Cancer Aid Merthyr Tydfil, which helps cancer patients and their families, and the Merthyr Cynon Foodbank - which gave out 3,781 emergency food parcels over the past year and in the last month alone, helped 642 local residents in crisis.
Declan's Consort for the year will be Cllr Paula Layton, his partner of 18 years and elected to the Council this month.
Deputy Mayor for 2022/23 is the past year's Mayor, Bedlinog ward member Cllr Malcolm Colbran, who saw his term of office severely curtailed by the pandemic.
If you wish to invite the Mayor to an event, please contact mayoral@merthyr.gov.uk