Jobs bonanza in prospect at January event
Categories : Press Release
21 Dec 2022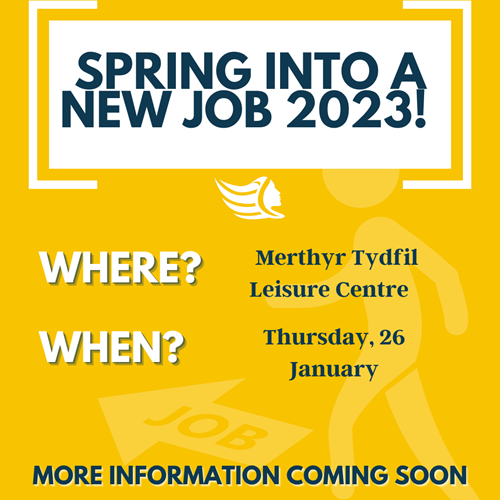 A possible 200-plus vacancies could be on offer from a range of Merthyr Tydfil employers at a jobs fair in January.
More than 20 businesses and other recruiters are interested in attending the event, organised by the County Borough Council's Employability Team in partnership with Merthyr Tydfil Job Centre Plus.
Taking place at Merthyr Tydfil Leisure Centre on Thursday, 26 January, a wide range of sectors will be represented at the 'Spring into a New Job' fair. The Council will be showcasing the diversity of local authority work, alongside advanced manufacturing and engineering companies, construction businesses, retail and customer services, and outdoor activity and healthcare providers.
Council Leader Cllr Geraint Thomas said: "This is our first major recruitment event for three years due to the pandemic, and we're thrilled to see such an interest from potential employers."
• Spring into a New Job is taking place from 10am-1pm in the Leisure Centre's main hall, and we'll be giving you plenty of further information over the coming weeks.