Lights, Camera, Action! as Pen Y Dre Pupils Address Homophobic Bullying
Categories : Press Release , Education , Schools
20 Jul 2022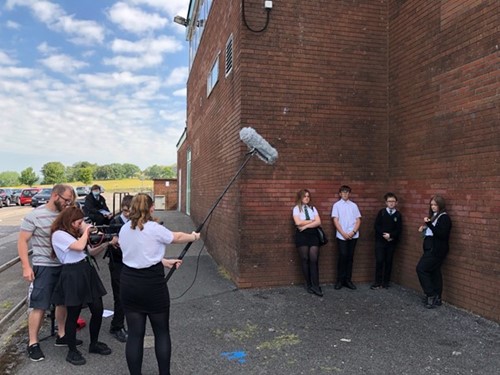 Recently, students at Pen Y Dre comprehensive school in Merthyr Tydfil took part in a short film called 'Look at Us' which shines a light on the the issue of bullying, based on sexual orientation.
Ffilm Cymru in collaboration with Cymoedd Creadigol decided that Pen Y Dre should be the school to bring the script to life which was written by pupils from Porth County Community School RCT, who have faced this type of bullying themselves
Pupils from the school, with the support of their drama department went on to produce and direct a short film taking on a variety of roles such as acting, camera operating, including make-up and post editing, honing their creative skills throughout the process.
Pen Y Dre's Drama teacher, Nathan Coles who collaborated and directed the pupils on the project, said: "The topic of homophobia is an incredibly poignant one. It is awful that the students who wrote this film were unfortunate to be subjected to this type of bullying and harassment. I hope we have created something that will make people appreciate how important it is to be kind to all, no matter of sexuality or how they identify themselves."
Cllr Gareth Richards, Equalities Champion, said "I'm delighted to see one of our Merthyr Tydfil Schools- Penydre being involved in the making of this film 'Look at Us'. Bullying of any sort is not acceptable and I am aware that schools go to great lengths to address it.  However, research seems to evidence that bullying frequently occurs for someone's sexual orientation. This can take many forms from name calling, banter or actual violence.  Films like this can only lead to improved understanding, well done Penydre High School."
Cllr Michelle Jones, Cabinet member for learning, said: "This film shows how such action can have a traumatic effect on young people. It demonstrates that we must all play our part in ensuring that all bullying does not play a part in school life, well done PenYDre"
On Monday, the 18th of July, pupils, staff, and parents had the opportunity to watch the premiere of the Film at Coleg Y Cymoedd and were joined by representatives from Stonewall, Cymoedd Creadigol, Ffilm Cymru and Careers Wales who spoke at the event.
Here is the link to the short film: https://youtube.com/watch?v=f6HbT8egMnY&feature=share
For more information on Ffilm Cymru, it's funding and it's work with young people, please visit https://ffilmcymruwales.com/
For more information on Cymoedd Creadigol, please visit https://www.cymoeddcreadigol.org.uk/
For more information on the work of Stonewall, please visit https://www.stonewallcymru.org.uk/
For help with LGBTQ+ issues please contact the Wales helpline 0800 9179996 or visit https://lgbtcymru.org.uk/