Meanwhile scheme brings taste of the Caribbean to town centre
Categories : Press Release
02 May 2019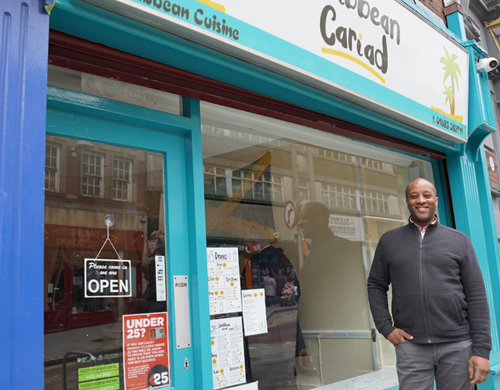 Merthyr Tydfil's eclectic food offer has been broadened still further with the opening of the town's first Caribbean restaurant, the latest addition to the County Borough Council's innovative 'Meanwhile' initiative.
Caribbean Cariad is bringing a taste of Montego Bay to the High Street - courtesy of Midlands-born Michael Hamilton, whose family hails from Jamaica's most famous city.
Michael's mission to introduce Merthyr to the joys of jerk chicken has been accomplished with help from the Meanwhile scheme, a partnership approach improving the appearance of the town centre by bringing empty premises back to life.
The Council's economic development officers, Merthyr Tydfil Enterprise Centre, Tydfil Training, Business Wales and property owners have all joined forces to provide support including preparing business plans and finding short-term rent-free accommodation.
A total of 15 businesses have opened in Merthyr Tydfil since the scheme began four years ago - Caribbean Cariad is the 16th.
For the past three years, Michael has been living in the Rhondda and working in a range of different sectors while also cooking part time in a number of pubs and rugby clubs.  He was invited to take part in the 2018 Merthyr Food Festival, where his live cooking demo was a big hit, and decided to take the plunge and open his own restaurant.
Months of support, mentoring, training courses and business planning later, a suitable property became available and Caribbean Cariad opened in April, to rave reviews. Dishes include ackee and plantain, saltfish fritters, curried goat and homemade desserts such as coconut and lime cheesecake.
Michael said: "It's been a long-held ambition to bring Caribbean dining to a Valleys community, and I'm delighted to have this opportunity with the support of the Council's brilliant Meanwhile project."
The Council's Chief Officer for Community Regeneration Alyn Owen said: "The town centre is continuing to grow a culture of niche independent stores that boost our vibrant and varied economy, and the Meanwhile scheme has helped a wide range of businesses.
"Budding entrepreneur Michael has received a huge amount of encouragement from Merthyr Tydfil Enterprise Centre, Tydfil Training and Business Wales. We would also like thank landlord John Barbuti for his willingness to support Michael and his understanding of the Meanwhile project."
• If you would like some support from the Meanwhile scheme, please contact Merthyr Tydfil Enterprise Centre on 01685 727509.