Merthyr Tydfil indoor market trader in running for top honour
Categories : Press Release
26 Jul 2023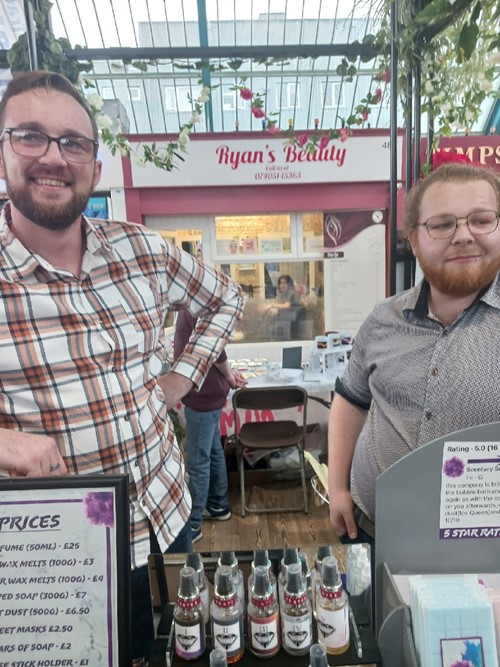 A Merthyr Tydfil Indoor Market trader has progressed to the national final of a prestigious competition for young entrepreneurs after impressing the judges at the Wales regional final in Swansea.
David White, owner of Scentury Scents based in St Tydfil Shopping Centre market, was highly commended and awarded a place in the final of the National Market Traders Federation contest in Stratford-upon-Avon this August.
Stallholders at the Young Traders Market campaign 2023 were judged on criteria including customer engagement, cleanliness of stall and area, stall decoration, product knowledge, unique selling point and quality of product.
More than 300 traders UK-wide applied to take part in the contest, with three from St Tydfil qualifying for the regional final. Along with Scentury Scents, Taylor's Tiny Tots owner Charlotte Taylor and owner of Paw Prints Cymru Alfie Sainsbury travelled to the Swansea Market event.
"We are proud of all our traders in the indoor market, and especially of our young stallholders who show such enthusiasm for their products," said St Tydfil Centre Indoor Market & Marketing Manager Sarah Bell.
"This is an important initiative aimed at encouraging young entrepreneurs to try retail markets for size, and many of those who have taken part have gone on to achieve huge success," she added. "We hope that happens in the case of our Merthyr Tydfil traders."
Around 90 entrants will be taking part in the final, which is being held over the August bank holiday weekend at Stratford-upon-Avon's Waterside. As well as a trophy, the winner will receive £500 cash and a mobile credit card terminal from NMTF sponsors MultiPay.