Merthyr Tydfil place names feature in series of podcasts and webinars
Categories : Press Release
07 Oct 2021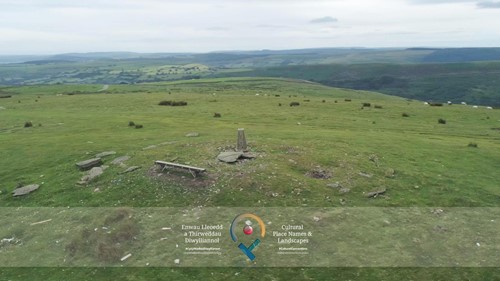 Some of Merthyr Tydfil's best-loved places and landscapes feature in a series of podcasts and webinars produced in an effort to preserve original Welsh place names.
Following the success of a public survey to understand places and landscapes of significance and the subsequent delivery of an online and interactive story map (www.culturalconnections.wales), ten podcasts and two webinars have been published by the #CulturalConnections project.
"Welsh place names tell a story," said Cabinet Member for Regeneration, Transformation and Commercialisation Cllr Geraint Thomas.  "In around 480AD Tudful, a daughter of King Brychan of Brycheiniog, was martyred during a pagan raid.  The place in which she was killed was subsequently named Merthyr Tydfil in her honour.
"However, for many reasons, some traditional place names are being lost," he added.  "Perhaps the growth in social media and online platforms for tracking outdoor activities is adding to this trend.  Anglicisation of them as an inevitable result of industrialisation and inward migration could be another - Hirwaun being pronounced Herwin locally, for example."
The podcasts expand on the stories and information presented on the story map.  The series includes ten approximately 30-minute bilingual episodes – an introductory episode and one focussing on each of the project's wards: Ynysybwl; Rhigos; Plymouth; Bedlinog; Vaynor; Treharris; Maerdy; Merthyr Vale; and, Cyfarthfa.
Several themes which have featured throughout the project are also explored – these include: local culture; changing landscapes; language; geography; industrial development and heritage; and, history.
The podcasts can be found on all major platforms, including Spotify https://spoti.fi/2Y0R19K, Apple Podcasts and Google podcast by searching for #CulturalConnections.
Two webinars have also been produced targeted at teachers: one for primary; and, one for secondary age groups.  These introduce the project and its cross-curricula relevance, introducing a range of opportunities to use the project during lessons – these will be shared with schools and are available by searching for #CulturalConnections on YouTube.
#CulturalConnections has been commissioned by Rural Action Cwm Taf - the Rural Development Programme in Merthyr Tydfil and Rhondda Cynon Taf - and funded by the European Union's LEADER programme.
It is part of the Wales Rural Development Plan 2014-2020 which is funded by the European Union fund for Rural development and Welsh Government.
The project's delivery has been led by Cardiff based environmental consultancy TACP (UK) Ltd alongside a team comprising Black Mountains Archaeology, GeoArch, Jack Pulman-Slater and To the Blue Group.