Merthyr Tydfil pupils learn about locomotive first through fun school project
Categories : Press Release
30 Jan 2020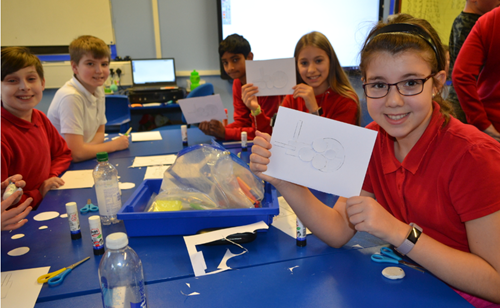 Merthyr Tydfil schoolchildren are learning about one of the most significant events in the town's history through an ambitious and fun project combining art, creative writing and filmmaking.
As part of an annual celebration of the world's first steam locomotive journey, which took place in Merthyr Tydfil in 1804, primary schools are producing artwork and writing stories about the locomotive's engineer and designer Richard Trevithick.
Six schools are taking part: Gwaunfarren Primary School, Edwardsville Primary School, Troedyrhiw Primary School, Caedraw Primary School, Ysgol Gymraeg Rhyd y Grug and Bedlinog Community Primary School – with the six-week project culminating in the Trevithick Day anniversary on February 21
The initiative is being run jointly by Merthyr Tydfil Heritage Trust, WellbeingMerthyr and the County Borough Council, supported through £3,000 funding from the Ffos-y-fran Intermediate grant fund.
The schools are finding out about Trevithick through history lessons and art and creative writing classes, before becoming involved in the production of a film featuring them talking about and asking their families what they know of the man and the event.
They will also be treated to a performance by local heritage interpreter and storyteller Tony Thomas, acting as Trevithick and leading them in a walk on the trail running along the route of the original tramroad to Trevithick Tunnel, site of the historic moment.
The pupils also enjoyed a historic costume workshop delivered by staff from Cyfarthfa Castle Museum & Art Gallery, where they discovered what life was like in 19th Merthyr Tydfil
County Borough Council Cabinet Member for Regeneration and Public Protection Cllr Geraint Thomas said: "The Trevithick locomotive story is integral to the industrial history of Merthyr Tydfil and it's great to see our children learning about it in such a fun and informative way."