Merthyr Tydfil's virtual Christmas will still be a sparkling affair
Categories : Press Release
25 Nov 2020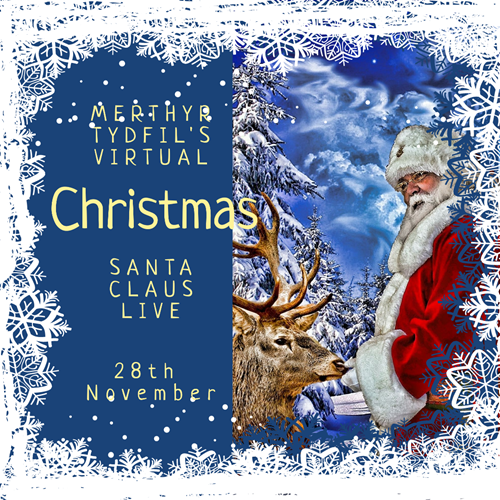 It's not Christmas as we know it this year, but Merthyr Tydfil residents can still enjoy the lights switch-on – from the comfort of their own homes.
Pandemic restrictions on crowd sizes means we won't be inviting people into the town centre, but the fun of the occasion can still be experienced virtually – so please DON'T go into town, as there won't be anything to see.
Instead, Capital FM presenters Josh Andrews and Kally Davies will be broadcasting an evening of live entertainment from the radio station's headquarters, with a guest appearance from Santa Claus himself.
The event will kick off a three-week long online celebration also featuring a virtual Christmas Market, broadcast from the North Pole, Children's Fun Day and a video messages evening.
"Sadly, the usual Christmas events that take place around the world won't be happening this year," said Cabinet Member for Regeneration and Public Protection Cllr Geraint Thomas.
"But the County Borough Council, Big Heart of Merthyr Tydfil Business Improvement District and St Tydfil Shopping Centre have been working hard to provide the next best thing – a virtual seasonal celebration with live entertainment, family activities, unique vendors and more.
"We would also appeal to people not to go into town on the virtual switch-on evening, as the lights are not literally being turned on and there will be nothing for them to see."
Big Heart of Merthyr Tydfil Chair Huw Williams said: "The restrictions mean everything has to be a bit different this year, but residents are still not going to miss out on the fun.
"And as well as the online activities, our traders have done all they can to make their premises safe for shoppers - and they need your support more than ever before. We urge you all to 'shop safe, shop local, shop Merthyr' over Christmas."
The festivities commence at 5pm on Saturday 28 November with the Capital FM broadcast; the virtual Christmas Market will be held between 1-19 December; at 6 pm on Friday 4 December; Tiny the Elf will be broadcasting live from the North Pole; Saturday 12 December is Children's Fun Day, with community songs, dancing and games; and Saturday 19 December is video messages day, with people invited to film messages for their loved ones and send them to info@welovemerthyr.net
Log on to the event page: https://www.facebook.com/events/391926811947564 from 5pm on 28 November.