Merthyr Tydfil takes clean transport strides with Tony's Taxis and Green Fleet
Categories : Press Release
05 May 2022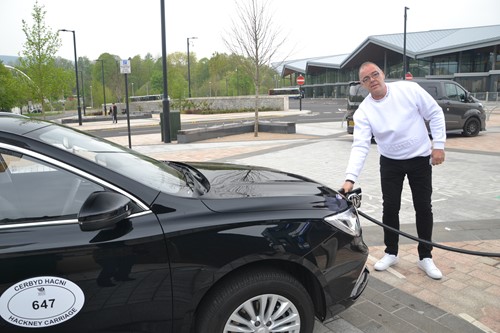 A long-established Merthyr Tydfil taxi driver has become the first in the county borough to launch an electric vehicle service.
The Council is hoping that other proprietors will follow in the footsteps of Anthony Brown, who has run Tony's Taxis and Minibus Hire for the past 20 years, and take advantage of an initiative to help them do so.
The Council's Welsh Government-funded 'Green Fleet' Scheme is a 'try before you buy' programme which allows taxi drivers to 'borrow' a fully electric, wheelchair accessible vehicle for 30 days free of charge.
There are two vehicles that they can use, and the trial includes free electric charging, insurance, vehicle licensing and breakdown cover, all funded under the scheme.
Tony, however, has already taken the plunge and paid for his own.  He said: "I knew it was the right time to make the change to electric.  With diesel prices rising so much, I had to think about the long term."
And he's delighted with his quiet, fumeless, money-saving new vehicle. "For me changing to an electric taxi was a no brainer, he added.  "This is the future for cars."
Head of Public Protection Paul Lewis said: "It's fantastic to see one of our licenced taxi drivers go electric. The future of travel is here through clean carbon free vehicles. Tony is the first to embrace change and I am sure many more will follow his lead."
Tony is making use of two charging points installed at the Merthyr Tydfil's bus interchange, which are available for free to 'Green Fleet' Scheme drivers.  Privately owned taxis can use them on a pay-as-you-go basis.
Licensed Hackney Carriage drivers can register to take part in the Green Fleet Scheme trials via www.electrictaxiswales.co.uk