Mini-politicians convince of case for bus station water bottle filler
Categories : Press Release
22 Jan 2021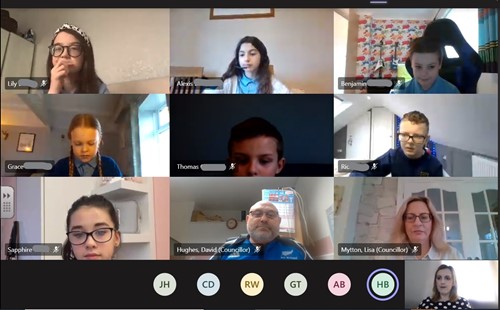 A young team of budding politicians has convinced the Council to install a water bottle filling machine in Merthyr Tydfil's new bus station after pitching their idea in an online presentation.
Seven members of St Mary's Catholic Primary School's School Council took part in a Teams meeting with Mayor Cllr Howard Barrett and the Cabinet, persuading them that the availability of fresh drinking water was essential to people's health and wellbeing.
The school was the first in Merthyr Tydfil to achieve UNICEF's Rights Respecting School GOLD Award, in 2018, and the 10 and 11-year-old pupils were impressive in their impassioned arguments for the dispenser.
School Council Chair Alexis, Lily, Thomas, Saffi, Rio, Ben and Grace reasoned that: 
water should be free and accessible to homeless and less fortunate people
there should be an effort to change 'attitudes of grabbing and go' by offering an alternative to buying bottles and damaging the environment
people travelling into and out of Merthyr Tydfil should be able to stay hydrated when travelling on the bus
people should be encouraged to reduce their sugar intake by drinking water rather than sugary drinks
the installation of the bottle filling machine would be good for local tourism, with visitors to local attractions and those out walking able to quench their thirst
when cafés are closed, people should be easily able to get water without having to go home
At the end of the presentation, the Cabinet voted overwhelmingly in favour of the bottle filling station.
Council Leader and Cabinet Member for Learning Cllr Lisa Mytton said she and her fellow councillors had been 'seriously impressed' by the pupils' pitch.
"They were so knowledgeable and articulate and we couldn't fail to be persuaded by their arguments," she added. "It's so reassuring to know that these kind and compassionate children are Merthyr Tydfil's future. We're all in very good hands!"
Ross Williams, Project Manager with main contractor for the bus station Morgan Sindall, said: "There was no provision in the original station plans for a water dispenser but after listening to the School Council's extremely well-presented appeal, how could we not oblige and provide one?"
"The pupils had initially asked for a water fountain, although we all later agreed a bottle filling station would be more hygienic in view of the current situation. It will also be better for the environment, reducing plastic waste."
St Mary's teacher and 'very proud leader' of the School Council Sarah Thomas said: "I would like to thank the Cabinet for attending the meeting and offering this fantastic opportunity for the School Council to pitch their idea for a water dispenser.
"I can't even describe how proud I am of the children - but they do make us proud every day in school. The Cabinet were incredible with them and the way they included children's names was such a lovely touch. I could see the children's faces were beaming when their names were mentioned."
Mrs Thomas also thanked Ross Williams for his active involvement with the school throughout the bus station construction period.
"Many of our pupils have been very fortunate to participate in a range of engaging activities, providing them with a real life local context of construction and engineering," she added.
Welsh Government awarded the County Borough Council £11m funding for the station, which will be located closer to the town's railway station, to complement its significant investment in the Core Valley Lines Rail Network.
Work on the station is on schedule for completion in the spring.