Pen y Dre High School Wins Cymraeg Campus Gold Award.
Categories : Press Release , Education
11 Jun 2021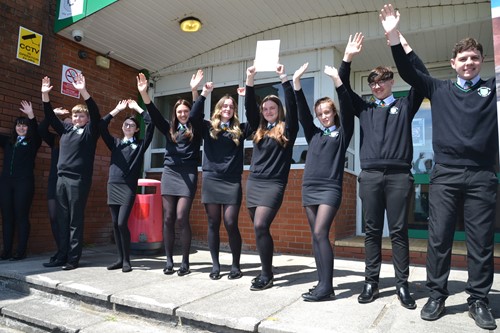 In May 2021, Pen y Dre High School in Merthyr Tydfil received the Cymraeg Campus Gold Award. This is an incredible achievement.
Cymraeg Campus is part of the Language Charter Framework forming Welsh Government's strategy, Welsh 2050: A Million Welsh Speakers. Cymraeg Campus aims to increase the use of Welsh within and outside the classroom.
Usually to get the gold award a school has to achieve the bronze and silver awards first, however when assessed for the bronze award, the standards at Pen y Dre High School were already within the criteria to meet the silver award.
During the visit, Chris Newcombe and Julie Bowhay from Central South Consortium were thrilled by the use of Welsh across the school. It is an integral part of each department and every member of staff contributes to the work. Sue Walker, Chief officer for Education commented 'the development of Welsh at Pen y Dre is a whole school strategy and testament must go to the passion and commitment of all senior leaders especially the Head of Wels, Mark Morgan, and also the pupils through their Criw Cymraeg.
Cllr Geraint Thomas, the council Welsh Champion added 'Congratulations to everyone at Pen y Dre for this fantastic achievement, a well-deserved tribute to the hard work of all at the school.