Project to protect historic and 'vital' Common running through two counties
Categories : Press Release
04 Aug 2020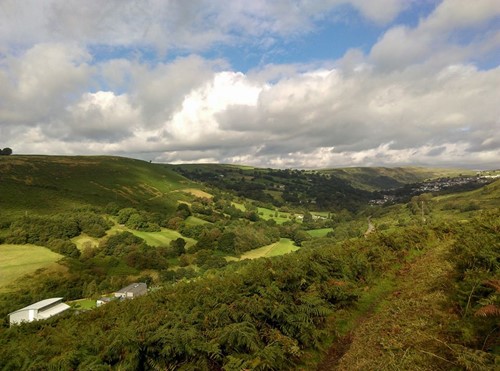 A partnership created to protect the historic Gelligaer and Merthyr Common has launched a series of public engagement tools aimed at encouraging people to respect the 'vital green lung of the valleys'.
The Tirwedd y Comin Project is working with the Gelligaer & Merthyr Common Partnership (GMCP), which was established in 2019 to bring together landowners, graziers, statutory bodies and key organisations to tackle issues and explore opportunities impacting the Common.
There is a new website www.gmcommon.org, an information leaflet, a Twitter account and a Facebook page, all aimed at educating and raising he profile of the common.
Project staff and a member of South Wales Fire & Rescue Service Fire Crime Team have recently been delivering leaflets to Bedlinog, which borders the common, explaining to members of the public exactly what is meant by common land and what they are allowed to do on it.  Further leaflet dropping events are planned throughout the rest of the summer.
"The leaflet explains how the Common is vital for supporting the local agricultural and rural community and is home to an abundance of wildlife, including the iconic Red Kite and the threatened Lapwing," said County Borough Council Cabinet Member for Regeneration and Public Protection Cllr Geraint Thomas.
"Unfortunately, it faces high levels of anti-social behaviour from a minority of people, which is having a harmful impact.  The aim of this project is to help protect the Common by following the rules and rights associated with common land that not everyone is aware of."
The lack of awareness and respect has led to such illegal activities as off road driving causing erosion, disturbing wildlife and injuring animals; 'fly grazing' and abandonment of horses and ponies; dogs not being kept on a lead disturbing ground nesting birds and other livestock; fly tipping and littering; arson attacks and 'heritage crime' - targeting the historic environment such as archaeological sites, churches and castles with criminal damage, arson, unauthorised excavation, illegal metal detecting (known as 'night-hawking'), or damage by vehicles.
Gelligaer and Merthyr Common is a 3,000-hectare (30 sq km) upland landscape, divided between the county boroughs of Merthyr Tydfil and Caerphilly and containing three mountain ridges and an area north of the Heads of the Valleys road.  It is a designated Cadw Historic Landscape due to evidence of continued land use and activity from prehistory to the recent past.
Commoners are usually farmers who hold registered Rights of Common which allows them to graze their animals.  All common land in Wales and England is deemed 'open access' to members of the public.
Common Ranger Mark Ward said: "The Common is a spectacular landscape - a vital green lung of the valleys.  At 3,000 hectares, this great expanse of land plays its part in the water and carbon cycles which shape and support our everyday lives locally, nationally and internationally.
"The Common means so much to so many people. For some it is an area to graze animals, to others an open space for health and wellbeing.  Some enjoy the rich biodiversity and historical assets, while others may just enjoy it as scenic route to work.
"Respecting the Common, cherishing and managing it in a sustainable manner to pass on to future generations is everyone's responsibility, and we hope that this project will help people realise that."  
This project has received funding through the Welsh Government Rural Communities - Rural Development Programme 2014-2020, which is funded by the European Agricultural Fund for Rural Development and the Welsh Government.