Schools road safety improvements almost complete
Categories : Press Release
05 Jul 2023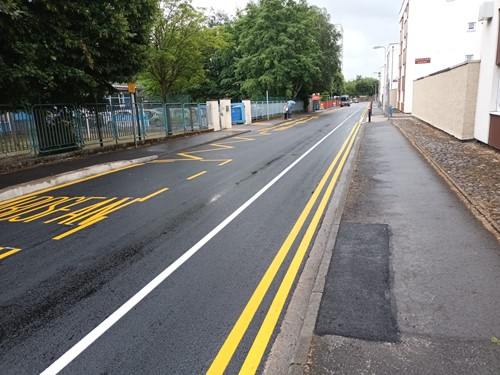 Work is nearing completion on road safety improvements outside two town centre primary schools. 
Caedraw Road is access-only, meaning it can only be used by people needing access to their properties or place of work.
The street cannot be used for parking other than permitted use for school buses, taxis and disabled users - and then only within designated bays for a limited period, as stated on the road signs.
A solid white line along most of the length of the street denotes a mandatory cycle lane, with parking or driving inside it prohibited. On the other side of the street, an intermittent line denotes an advisory cycle lane – it is possible to drive in this area, but priority must be given to any cyclists using it.
Concerns had been raised about safety at St Mary's Catholic and Caedraw Primary schools due to the number of cars parking on pavements on a road that has access-only restrictions. 
Residents of Caedraw Road were asked to take part in a survey on the plans, and an overwhelming majority of the responses were in favour of the scheme. 
This scheme is part of the Council's priorities to improve both the safety of school children and the provision for pedestrians and cyclists to enter our town. 
The work was funded by Welsh Government in partnership with Transport for Wales as part of a successful bid for Active Travel support. The route connects to the new bridge over the river Taff which is due to open this month (July).