St Tydfil Indoor market: National Finalists in Annual National Market Traders Federation competition
Categories : Press Release
08 Sep 2023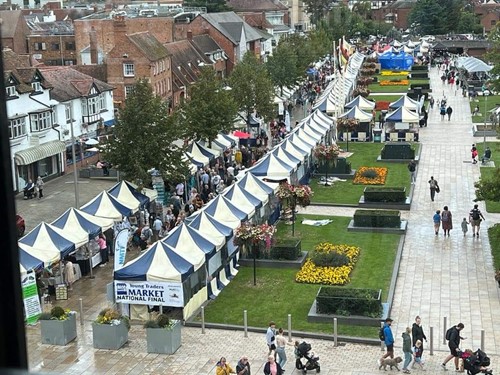 Two businesses from St Tydfil Indoor Market traded in the finals of the National Market Traders Federation (NMTF) competition in Stratford Upon Avon last month.
This year around 1,000 young traders across the UK entered the competition and in April 2023, Merthyr Tydfil was the first ever South Wales local host. Through local and regional heats the young traders were whittled down to the best 92 and those traders were then given the prestigious honour of showcasing their skills at Stratford-Upon-Avon Waterside on 24th and 25th August.
This was the first competition entered by both Taylor's Tiny Tots and Scentury Scents and whilst they didn't place as winners in the final, they had a wonderful weekend and gained huge amounts of experience and contacts from this busy event, which is organised specifically by the NMTF to encourage young people into market trading.
Charlotte of Taylor's Tiny Tots only had a week to prepare as she was chosen to compete as one of the NMTF's 'Wildcards' and said of the event: "I had such an amazing two days meeting new customers and traders.  Thank you to everyone for their support". 
Scentury Scents, said: "We had a huge amount of sales alongside the ability to showcase our products to everyone in Stratford-Upon-Avon.  It was a great opportunity to network".
Councillor Michelle Symonds, Cabinet Member for Regeneration, said: "Congratulations and thanks go to our traders David White & Gareth Davies of Scentury Scents and to Charlotte Taylor of Taylor's Tiny Tots for their participation and their professional representation of Merthyr Tydfil throughout the competition. 
"Also, special thanks to the NMTF and all those who participated in the event organisation."