The specialist store set to be Valleys runners' Sole Mate!
Categories : Press Release
15 May 2023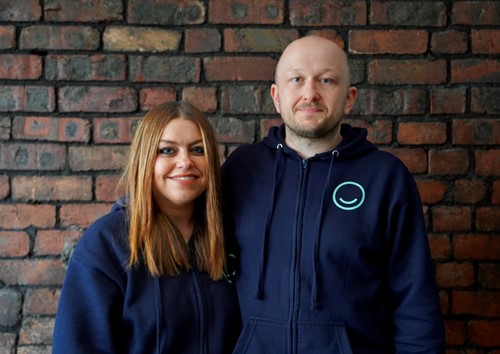 South Wales Valleys running enthusiasts no longer need to travel to have their gait analysed for the most suitable footwear - thanks to the arrival of Merthyr Tydfil's first specialist store.
Sole Mate in Pontmorlais is the only store of its kind between Cardiff and Liverpool. Along with an extensive range of shoes, clothing and accessories, it offers biomechanical assessment, while a physiotherapist specialising in sports rehabilitation visits twice a week.
Owner Paul Thomas credits running with helping his mental health and is aiming to 'build a community' around the business, with 'talking tables' in store to combat loneliness, where people 'can just come and have a coffee and a chat'. Paul and partner Lucy Powell, who works with him, are also looking to employ an on-site mental health therapist.

"Having worked in IT for over 20 years and not enjoyed the last 10 of them, I've found running is my passion," said Paul. "It's helped massively with my mental health, given me focus and has always allowed me to escape for an hour while my mind does overtime piecing things together."

It was at the top of Pen-y-Fan in the middle of 30-mile ultra marathon in torrential wind and rain last November that Paul decided he wanted to switch careers and connect his hobby to his day job.
He was fed up with the limited choices of ordering shoes and clothing online and having to send them back; or having to travel to Cardiff and pay for parking – so retail seemed an obvious fit.
"Gait analysis has also been a nightmare historically - either going to Cardiff or being sold insoles by more general sports shops," he said. "We have cutting edge technology in store that a leading shoe brand is using to get data from their shoes. We're the only store in the UK to have it."
Having never run his own business before, Paul contacted the County Borough Council to ask about premises and was put in touch with Merthyr Tydfil Enterprise Centre (MTEC) for help with creating a business plan.
He then worked with the Development Bank of Wales to secure funding for the stock and to 'see us through the first six months with a bit of a buffer'. The Council then supported Sole Mate with the costs of setting the business up, and funding items including shop fittings, an anti-theft system, CCTV and mannequins.
At meetings with brands whose products Paul wanted to sell, he received an enthusiastic response. "They loved the fact that we would be the only specialist running store between Cardiff and Liverpool, the fact we are sat geographically right at the gateway to the Brecon Beacons – now, of course, Bannau Brycheiniog - and the fact we're surrounded by keen runners on both road and trail," he added.
Prior to Sole Mate opening its doors, the sport's governing body Welsh Athletics had found out about the store and asked Paul to be a partner to sell its branded core range both online and in store. "They were keen to keep the partnership within Wales, and as we were just building our online store it seemed the perfect fit," he said.
Customers are now visiting the store from all over Wales. "They've loved being able to come in and just talk 'running' and be able to touch and feel the products and try on shoes and clothes – rather than risk buying online.
"And it's been a massive mix of people, too: from those wanting to start running, to ultra marathon coaches - and one guy who ran 28 miles from Cardiff to buy two tops, and then ran home! The response has been unreal!"
Mayor Cllr Declan Sammon said a specialist running shop was a particularly welcome addition to Merthyr Tydfil's retail offer, particularly since running was enjoying a boom in the area.
"I'm very impressed that Paul and Lucy are offering an holistic service, with a mental health therapist alongside the physiotherapist," he added. "Huge numbers of people begin running for the mental health benefits – and where better to boost those benefits further than in the beautiful scenery of our own county borough?"
Sole Mate's website is www.sole-mate.uk/ tel 01685 673988 Instagram: www.instagram.com/solematerunninguk/ Facebook: www.facebook.com/solematerunning