There is nothing artificial about the intelligence at Troedyrhiw as pupils try their hand at robotics
Categories : Press Release , Education , Schools
05 Jul 2022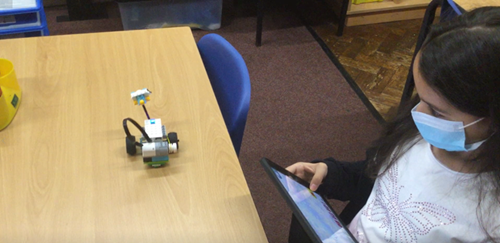 Pupils at Troedyrhiw primary school have recently been working on their engineering and computer science skills, building, and programming robots, all so important as the future will require humans to work and live alongside artificial intelligence in their day to day lives.
These classes have become weekly two-hour sessions for pupils as part of SHINE (skills highlighted IN education) which has a focus on STEM learning. The pupils develop technical skills building robots with Lego provided by The Eden Education Centre; wiring and programming them which they then control to do tasks via an iPad. The pupils have done this by coding the robots to have contrasting functions, such as sensing, thinking and navigating around an obstacle course. 
Rebecca Evans, Troedyrhiw deputy headteacher has been working to introduce a modern and innovative curriculum into the school and she, said "It has become clearer every year that the future will heavily involve robots, so getting pupils to collaborate, build and understand artificial intelligence is of paramount importance, so that they can adapt in an ever-changing world and prepare themselves for the future, in both their work and personal lives. The idea for this developed from my introduction of the SHINE initiative at the school, where we believe it is important for pupils to have the opportunity to choose from a range of creative activities to develop and enhance their skills, beyond the academic and really show us how they shine in different learning situations"
Michelle Jones, learning cabinet member, said "one of our desired outcomes within the Raising Aspirations, Raising Standards strategy is that children are provided with education experiences that excite them and inspire them to learn and achieve, this project is something that certainly does that and whilst the world of artificial intelligence is one that is alien to many of us, it will be more and more a part of the world our young people will grow up in.