Town turns yellow for Covid-19 Day of Reflection
Categories : Press Release
23 Mar 2021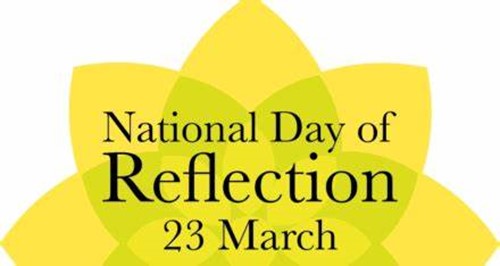 Buildings in Merthyr Tydfil town centre will be turned yellow today (Tuesday 23 March) as part of a national day of remembrance for the people who have died from Covid-19 over the past year.

Redhouse Cymru and The College Merthyr Tydfil, along with the Iron Heart sculpture on Penderyn Square, are going to be lit up to commemorate the Welsh lives lost during the first year of the pandemic.
There will also be a giant yellow heart painted on the road between the Redhouse and Central Library containing the words 'Forever we will remember'.
Along with all the other local authorities across Wales, the County Borough Council is lowering its flag at the Civic Centre to half-mast.
Today has been declared a 'National Day of Reflection' to mark the first anniversary of Britain going into lockdown and in remembrance of the 125,000 people UK-wide who have died in that time.
Organisers of the event - which include the British Red Cross, Marie Curie and Royal Voluntary Service - are asking people to hold a minute's silence at noon, and many prominent landmarks will be lit up across the country at 8pm.
Jane Sellwood of Merthyr Tydfil Leisure Trust said: "The Redhouse will join with others across the country in memory of those who have lost their lives during the pandemic and in support of the families left behind by lighting up yellow on March 23rd.
"Wellbeing Merthyr has also commissioned a piece of artwork, which will be permanently situated behind the Library near the memorial garden and are inviting people from across the county borough to add the names of their lost loved ones to the memorial."